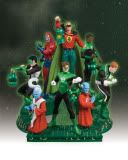 DC Comics solicitations are up for November, but in addition to all the Blackest Night tie-ins there were a couple of notable items listed that come out in April. In addition to the 4th series of Blackest Night figures were the first in a multi-part statue and "Absolute Green Lantern: Rebirth".
The statue is gorgeous, however the kicker is the price tag. Part 1 of the 4 part statue is $195. So in doing the math the complete statue will run you $780. I love my Green Lantern, but I love my marriage even more so I sadly am going to have to pass on this one. Unless I can get a good deal on selling my kidney...... Paging Geoff Johns - can you hook me up!? :>
The other cool news is
"Absolute Green Lantern: Rebirth". This release will be an over-sized slip cased edition like all the other Absolute editions and will contain 224 pages retailing for $75. This edition will not only contain the six issues of the original mini series and the Wizard preview pages, but the first issue of Geoff John's Green Lantern run and the Darwyn Cooke story from the Secret Files issue that came out in 2005.