Ryan Reynolds has been talking to the folks over at MTV News, giving them an extensive interview with a heavy focus on the upcoming Green Lantern film, set to
begin filming in April of 2010
for a summer 2011 release.
Last week, as reported on the MTV Splashpage, Reynolds said that seeing the prototype costumes was one of his high points for 2009, and that was a key indication to him that this film was going to be done right. Reynolds wasn't entirely convinced that the movie was right for him until he talked with director Martin Campbell and left the meeting with a completely new outlook on the film.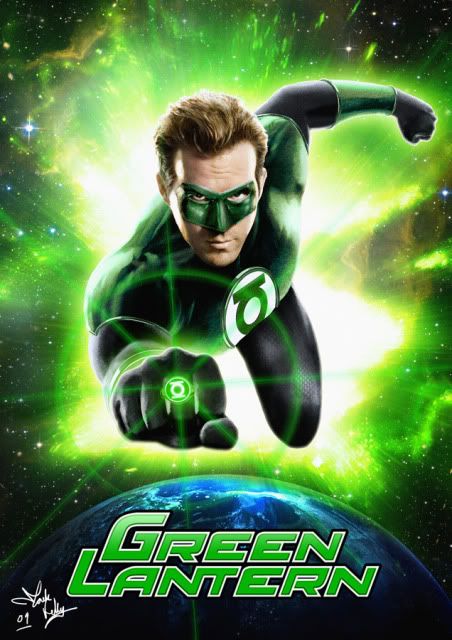 The Splashpage publish more information
today
, offering a greater glimpse into what the film might be like. One of my criticisms of the first draft that I read was that there wasn't a enough time making you understand why Hal Jordan deserves the ring. In fact, Hal is so much of a jerk that you don't root for him at all. The writers seemed to have gone beyond the Tony Stark cockiness to the point that Hal wasn't all that likeable.
Thankfully the script has undergone a number of rewrites and even Campbell has added some ideas of his own to the story. According to Reynolds some of the most memorable moments are when Hal's not in the Green Lantern uniform at all - and in my opinion that's a good sign.

Another issue I've had with a lot of superhero films is the amount of time it takes to get to the action. Understandably you need some of the back story, and getting the proper balance of origin and main story right is s delicate balancing act. As Reynolds describes the film, "...it's not a labored origin story, where the movie [truly] begins in the third act. The movie starts when it starts. We find out Hal is the guy fairly early on, and the adventure begins." Again, this is a very encouraging sign that this film will be done right.

There is more information coming later this week, so this entry will be updated as more details come forward.