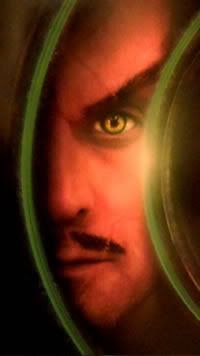 Mark Strong in makeup
After the Green Lantern panel, cast members held a second event for the press where some more information was revealed about the movie. Mark Strong said that Sinestro and Hal have several one-on-one confrontations during the movie because, as he puts it, "Sinestro tests him because he does not believe a human can handle the Corps."
Strong describes a scene early on in Hal's training where Sinestro and Kilowog are pushing Hal pretty hard and Hal pushes back, leading to a faceoff between the veteran and the new recruit. Oh, and the picture one the right comes from a poster given out at the event showing the first glimpse of Sinestro's look for the movie.
Entertainment Weekly and Fandango had video interviews with the cast, with topics ranging from the appeal of the Green Lantern character to the white glove controversy. You can view the videos by expanding the article.