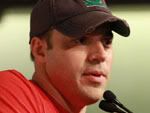 Geoff Johns
Geoff Johns, Tony Bedard and Pete Tomasi held a panel today, right after the Green Lantern movie panel, to talk about the growing Green Lantern comics franchise. Some new interesting tidbits came out of the conversation about upcoming events in the three GL titles.
Tony Bedard confirmed that the Weaponer, featured heavily in the second arc of his run on Green Lantern Corps, will indeed be the man who forged Sinestro's ring. He will be going after Soranik Natu. The red ring that Atrocitus recently gave Lobo will lead to some problems between Lobo and L.E.G.I.O.N.
Larfleeze will be caught robbing a house as he continues to be possessed by overwhelming greed that he cannot control. Geoff Johns also said that the Orange Lantern oath is not "Mine!" The White Lanterns do have an oath which will be revealed in an upcoming issue of Brightest Day.
The Dex-Starr Valentines Day special will featured the long awaited meeting between the red kitty of rage and Krypto, the Dog of Steel.
Green Lantern #57
Carol Ferris' status will change in a major way in the August issue of Green Lantern (#57), this is the same issue that Johns stated
yesterday
provided a great deal of illumination about the Predator. Johns said that readers will learn more about the various entities of the emotional spectrum and some of the beings do not have a positive influence on the members of their respective Corps.
There will be another "Secret Origin" tale, this time featuring Sinestro, drawn by the fabulous Ivan Reis. Editor Eddie Berganza revealed that the rumored "Untold Tales of Blackest Night" issues were not a rumor and would tell stories that occurred during the event that they didn't have time to tell at the time.
Even though the movie panel was over with, Geoff Johns praised Ryan Reynolds as a serious actor and reiterated that we will be happy with the movie.
The Green Lantern animated series was mentioned and it was stated again that the show would premier on the Cartoon Network starting in November of 2011.