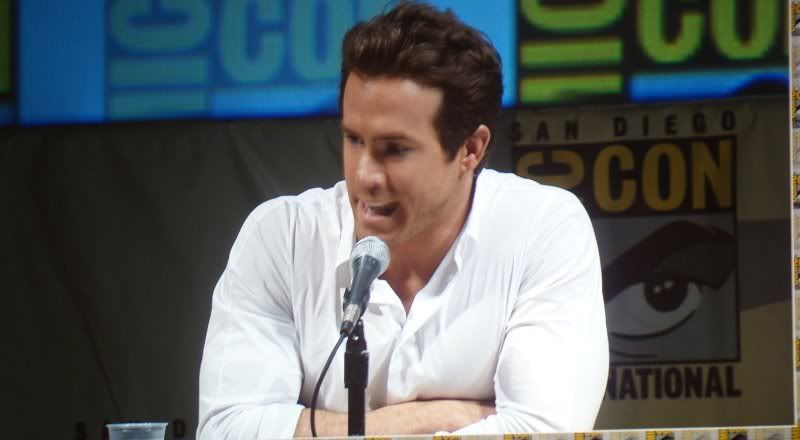 Ryan Reynolds
As I
reported earlier
, Ryan Reynolds and Blake Lively were to join Martin Campbell on stage in San Diego. In addition Mark Strong (Sinestro), Peter Sarsgaard (Hector Hammond), Producer Donald Deline, Greg Berlanti and Geoff Johns also took the stage in what was panel that could best be describe as disappointingly exciting. By that I mean that there was unfortunately very, very little of footage shown, but that most of the comments from the cast and crew left me excited for what's to come.
What makes this particularly disappointing are the high hopes that DC Entertainment, Warner Brothers and fans have for this film and the expectations we had as fans for what we might get to see. And what the people in the room saw went by so fast that no one could really jazzed about the movie. The end result will likely be a lot less hype than the "were going to steal the show" comments from DC before the panel led us to believe.
Here's a run down of what happened at the panel as I have summarized it from various live blogs of the show.
The panel started off with an exciting turn as the voice of possibly Abin Sur spoke up as an energy ball appeared on screen. "Welcome inhabitants of sector 2814. The Guardians have chosen you as candidates for enlistment but before you can be recruited, you must be tested. The light you see before you is controlled by your will. Focus on the light. If you will it, it will be. Now, focus."

The screen then filled with the light as it grows, the the quick montage of scenes flew by. Reynolds' voiceover says the Green Lantern oath as they see a close-up of Reynolds as Hal Jordan, his hand holding the ring, we see him in street clothes being pulled upwards and see a later scene in which he's taking on criminals by using the ring to form a giant fist that throws a roundhouse punch knocking out a bunch of guys. We get a very brief glimpse of Hector Hammond and Tomar Re. And that's it.
Mark Strong
Martin Campbell address some of the concerns about the uniform, noting that the white gloves did not look cool enough on film, so they are gone. He also describes the uniform as a skin more than a costume, complete with the muscle lines, but it is still a work in progress.
New Orleans is actually under a hurricane warning while the panel is going on, and it was said that the cast would be leaving as soon as possible to get back to complete filming, which should be completed in three weeks. Ryan Reynolds quipped that it was so hot that "yesterday's weather report was 'actual fire'."
Reynolds continues to impress me with his desire to do a great job. He said that he wanted role after meeting with Campbell, but tested several times because both he and Warner Brothers wanted to make sure he was the right guy for the role. He drew his inspiration for Hal from Chuck Yaeger and Han Solo. When a little boy asked him what it was like to say the oath, Reynolds responds by saying "well, it goes a little something like this", and recited the oath before signing a book for him.
It was mentioned that we'll see a huge number of Green Lanterns in the film, and crew went on to list some the fan favorites that we will see, such as Mogo, Bzzd (Campbell's favorite), Boodika, and Green Man. Kilowog, Sinestro and Tomar-Re would see more screen time that most of the others.
Campbell did say that the film is more "Secret Origin" than "Emerald Twilight" (thankfully) and someone confirmed that Parallax is the major baddie rather than LEGION as was in the first draft. As in "Secret Origin", Carol Ferris will also be a pilot and Blake Lively commented that she can't wait to be the villain so she can "kick Ryan's ass!"
Blake Lively
Geoff Johns said that he and Richard Donner had approached Warner Brothers a decade ago about a Green Lantern film, but were dismayed when the studio representative said to the effect, "can we do it without the ring." Johns was coy about the expanded universe concept with DC's films and when asked about what other characters he'd like to bring to the screen he responded with "Green Lantern 2". He did comment that a Justice League film might hinge on how well Green Lantern fares next June.
As quickly as it started the panel then ended as Reynolds went on to say that he'd been wearing the ring for six months and it was time for him to pass on the ring as Abin Sur did to him. One very lucky member of the audience had the lucky message that he was the winner taped to the underside of his seat and Reynolds
presented
him with the ring.
As you can see, there was no full length trailer presented and some in attendance described it as a let down. That's very disappointing considering how Warners created quite a bit of expectation that what fans were going to see would wow them. But the reality is that the film is still in production and with all the CG work still to be done it's premature to think we'll see very much at this stage of production. We can only hope that there will be more opportunities made to get fans buzzing about the movie before June 17th, 2011 arrives.