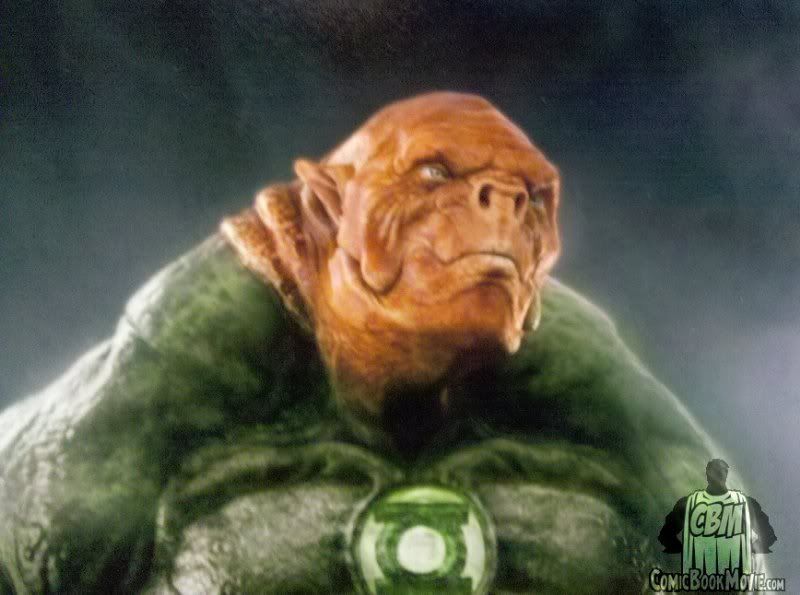 Behold the Wogster!
A while back some early
concept art
was leaked on the Internet, including some pretty good quality renders of Tomar-Re and Kilowog, the two main alien Green Lanterns getting a lot of screen time with Hal Jordan and Sinestro in the upcoming movie. With
principal photography wrapped
, the movie moves to the post production phase, which will be rather intensive considering the sheer volume of CG work that needs to be done. Today
ComicBookMovie.com
put out an image direct from one of their contacts in the art department showing a more or less finished version of everyone's favorite Green Lantern Drill Instructor.
While the image is not a good quality high resolution image, you can clearly see that there's been some changes made since the early concept art, which is to be expected as the crew begins to finalize the character designs for all the Green Lanterns we are going to see in the movie. It also would be absolutely no surprise if this is not the final look since we are still almost a year out, although one would expect some of this to be finalized sooner than later given that Geoff Johns said we'd see something more official looking than the teaser footage shown at this year's San Diego Comic-Con by the end of the year. I would not be at all surprised to see an official teaser trailer precede November's part one of "Harry Potter and the Deathly Hallows" and you'd expect to see some of these characters appear in that footage. There's a side by side comparison after the jump.
Kilowog 2.0 on the left, concept art on the right