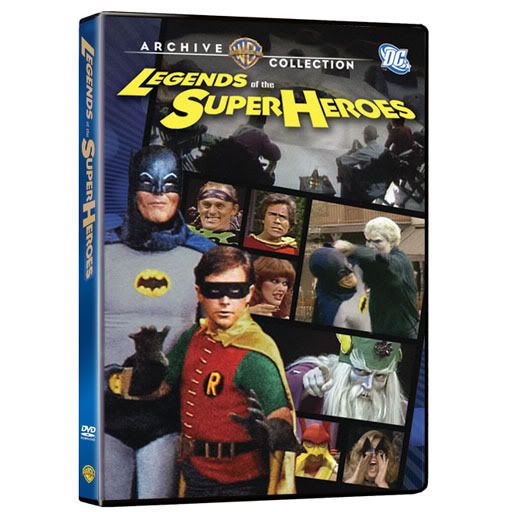 Irony is a funny, funny thing. Just last night my best friend and cousin was over and, as usually happens, we chatted about comics and our shared childhood memories. We were talking about some of the superhero TV shows that were on in the 1970's from the Nicholas Hammond
Spiderman
series to Lynda Carter helping us through puberty on
Wonder Woman
. With the trend to put old TV shows out on DVD to make some more money off of the nostalgia factor we talked about how it was funny that the
Spiderman
show has never seen the light of day even with the release of three major motion pictures.
Inevitably the subject of the once seen and often forgotten two part NBC special
Legends of the Superheroes
from 1979 came up. So this morning I check the Interwebs for Green Lantern news coming out of the New York Comic Con and what catches my eye? You guessed it,
Warner Brothers
is releasing it on DVD later this month!
If you not of the generation of fans who grew up during that era and were desperate for any live action superhero action, this "show" featured two episodes - one where the heroes and villains fought each other ("The Challenge"), and the other done in the vein of a celebrity roast, all the rage in the '70's ("The Roast"), complete with Ed McMahon of Tonight Show fame as emcee. While done for a young audience, there is definitely humor which today would be considered politically incorrect and some which was over our heads.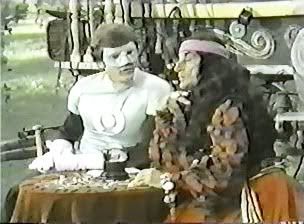 Hal being duped by Sinestro in drag...not kidding!
Adam West and Burt Ward revived their roles as Batman and Robin, while the rest of the heroes (Green Lantern, Flash, Captain Marvel, Huntress, Black Canary, the Atom and Hawkman) were played by relative unknowns. The villains included Frank Gorshin reprising his role as the Riddler, Sinestro, Weather Wizard, Dr. Sivanna, Aunt Minerva, Mordru, Giganta and Solomon Grundy. Most of the villains were portrayed by comedians ranging from Charlie Callas as Sinestro to Jeff Altman as the Weather Wizard.
Now, if you've never heard of this show, don't get too excited. The humor is at the expense of the characters and it definitely is not the finest hour the DC universe has had on celluloid, with this effort categorized along with the dismal Justice League live action pilot and the Superman musical as perhaps the worst adaptations of all time. But it is one of the only two times that Hal Jordan was seen in live action, the other being the brief appearance at Superman's birthday party TV special. But what sets this apart is that, unlike the other examples,
Legends of the Superheroes
wasn't trying to be serious at all even though the humor cannot be saved by the forced laugh track.
For me, I'll be picking it up for the sake of nostalgia and the chance to relive some childhood memories - and there will be some previously unseen footage that I have to see. Heck, I might even use it as an example when people complain about how bad they thought
Watchmen
was and moan about how they think Zack Snyder is going to ruin Superman (could it be any more ruined that it was in
Superman Returns
?!)
So if you're like me and want to celebrate DC's 75th anniversary and all its highs and lows, or if you just want to relive some memories, or you are just morbidly curious, or you're just that much of a completionist, you can order the DVD
here
. Here's an example of what your're in for: