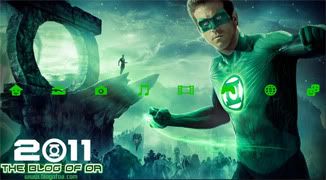 Playstation 3 Theme Preview Image
Tonight was a special evening for Green Lantern fans everywhere with the worldwide debut of the first trailer for the upcoming Green Lantern movie. To celebrate the trailer's release I've put together a new theme for the Playstation 3 featuring some of the images from the trailer.

This is free, of course, and just my way of sharing my enthusiasm for the Green Lantern mythos fan to fan.
To get the theme, simply go to
this site
and download the .p3t file. If you've never installed a theme before, here's a simple list of steps:
Prepare a memory stick by creating a folder called "PS3" (this is case sensitive, no quotes)
Inside the PS3 folder, create another folder called "THEME" (this is also case sensitive, no quotes)
Put the downloaded .p3t file inside the THEME folder.
Plug the memory stick into your PS3.
In the media bar, go to "Settings" and then "Theme Settings"
Go to "Theme" and choose "Install"
Select you memory stick and choose the theme and then "ok"
Once the theme is installed you can choose it by going to "Settings", "Theme Settings" and "Theme" and selecting the theme.