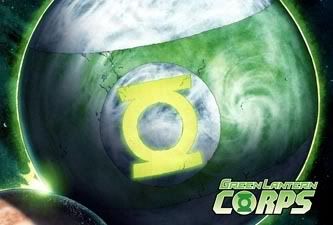 It was
previously revealed
that Mogo and Kilowog would be appearing in the upcoming direct-to-video release of
Green Lantern: Emerald Knights
and that Kilowog's story would be one about his days as a recruit. Bruce Timm recently revealed in an interview taped for Newsarama during the New York Comic-Con that the Mogo story would be an adaptation of Mogo's first appearance, the story "Mogo Doesn't Socialize" by Alan Moore and Dave Gibbons that appeared as a backup story in issue #188 of the second volume of Green Lantern from 1985.
In the story a young Arisia questions why some of the Green Lanterns never appear on Oa. Tomar-Re shares a tale in which Bolphunga the Unrelenting travels to a distant planet to defeat Mogo in order to further bolster his reputation as a cosmic bad-ass. Arriving on the planet Bolphunga cannot find Mogo and he spends years in search of the most feared and mysterious Green Lantern of them all, examining every insect and fauna to discover where Mogo is hiding. It is only in a fit of desperation, when Bolphunga examines the pattern of the finely manicured greenery on the planet, that he comes to the confidence shattering conclusion that Mogo is the very planet itself, leading him to make a hasty retreat. In conclusion Tomar-Re explains that this is the reason why Mogo doesn't socialize - his gravity would rip Oa to bits.
Timm mentions the adaptation near the end of the video found
here
.