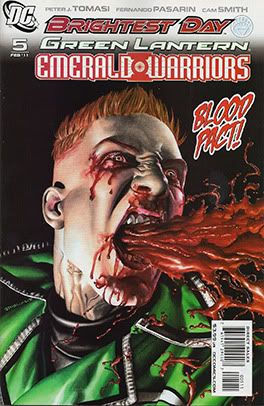 All hell breaks loose this issue as Guy Gardner's pact with Atrocitus is revealed, Green Lanterns die, and blood red images paint a picture of a horrific future. Peter Tomasi, Fernando Pasarin and Cam Smith put it all on the table this month, showing once again why the Green Lantern universe is in the best place it's ever been.
The Story-
Guy Gardner, Arisia, Kilowog and Bleez fall prey to the sneak attack by Zardor's mind controlled Green Lanterns that began
last issue
. Try as they might our team cannot break through to their attackers and make them realize they are on the same side, so absolute is Zardor's control that they only see members of the Sinestro Corps trying to dupe them. Gardner reaches his frustration point and breaks free, followed shortly by Bleez, Kilowog and Arisia.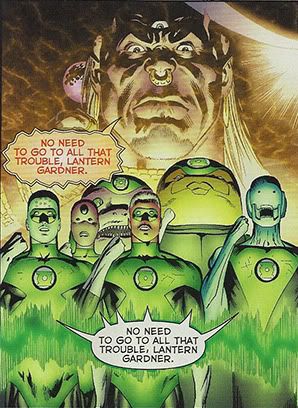 Zardor's control is absolute
Bleez's attack on one of the Lanterns allows him to gain control over himself, and realizing that they are seeing clearly he tries to persuade his comrades to stop their offensive. Zardor turns the Lanterns against him resulting in his gory destruction. Guy realizes that the pain that Bleez inflicted caused the Lantern to break free from being controlled, so he and his team switch gears and start attacking rather than just trying to stay alive. The gamble works and Zardor loses his grip on his reluctant minions. Just as the team starts getting some intel from the Lanterns, Zardor reasserts his control and forces all of the mind controlled Green Lanterns to commit suicide.
Kilowog loses it, feeling fully the burden of the responsibility he places on himself for the well being of the Green Lanterns he trains and the overwhelming pain of seeing them fall right in front of his eyes. Arisia tries her best to comfort him while Gardner tries to get his hands on one of the fallen GL's rings in hopes of discovering what happened to them based on where they had been. The four comrades head toward Kralok when Guy Gardner doubles over from the affects of the red power of rage within him.

Arisia consoles Kilowog in the aftermath of Zardor's final commands
Red blood spews from Gardner's mouth, forming into the shape of Atrocitus and warning them that their enemy is on Earth. Readers of last week's
Green Lantern #60
will know that Atrocitus speaks of the recent revelation that our entity-napper is none other than Krona and he now has Adara and Proselyte added to his collection - giving him four of the seven entities of the emotional spectrum. Atrocitus mentions the pact and immediately puts his position in danger as Kilowog and Arisia react to the secret that their fellow Lantern has kept from them.

Guy Gardner's pact revealed
Gardner recounts his tale of having visions from nightmares he was having and how they finally manifested themselves in blood one night - visions including Zardor, Krona, and the horrors they cause plus the image of Hal and Guy going at each others throat. The image ends with Guy realizing that the visions are coming true no matter how hard he tries to prevent them.
The Writing -
If it sounds like this issue moved fast, it did! But there is a lot going on even though the events of this issue seemed to move at a breakneck pace. Tomasi catches the depth of Kilowog's character perfectly, with the big guy seemingly more affected by the deaths of these particular Lanterns than in the past. However in looking at the long term history of Kilowog's term as the drill sergeant you could see this has built up over the past several years, so the fact that his emotions have come to the surface is what we should expect from a writer who not only understands the characters, but sees them as real beings. That's a great strength of Tomasi's and it's one of the reasons he's become one of my favorite writers.
The Art -
The art really carries a lot of the weight of this issue with so much going on. Fernando Pasarin's pencils and Cam Smith's inks really bring this issue to life. I particularly liked the Green Lantern logos used to imprison Guy Gardner and his team and how they added layers to Tomasi's writing of Kilowog's meltdown. They made it nearly impossible to not feel for the poor guy! The only criticism I have is that when the one Green Lantern is blown away by the rest of the mind controlled group it looks like Pasarin drew a left arm instead of a right one to come flying towards the reader, but that's nitpicking I suppose.
What Do I Think?
Another sound issue for this new series moves fast, but packs a few punches. There's clearly signs that the Green Lantern universe is about to get turned on its head again with the upcoming War of the Green Lanterns and I'm really glad to be along for the ride. Four out of five Lanterns.