Since the relaunch of the Green Lantern title I wondered if Geoff Johns would make a connection between this series' fiftieth issue to the infamous "Emerald Twilight" finale in the previous Green Lantern series. While today's release of Green Lantern #50 surprises no one in referencing that famous issue, it adds some insight into the nature of the Spectre, sets Hal and Carol up for a rekindled romance, and shows why Hal Jordan is one of the ballsiest guys ever.

Coast City is going to hell as Nekron's army continues to cause rampant destruction. Hal and the New Guardians are joined by their newly deputized members; Mera (red), Lex Luthor (orange), Scarecrow (yellow), Ganthet (green), Flash (blue), Atom (indigo), and Wonder Woman (violet). If you missed what happened in
Blackest Night #6
, Ganthet activated Oan tech in the rings that triggered their duplication for twenty-four hours and each ring sought out a suitable host.
Barry Allen and Saint Walker fight to save Jason from being trapped inside Black Lantern Firestorm and Mera has the ultimate case of PMS in her confrontation with Black Lantern Aquaman, earning instant respect from Atrocitus. Wonder Woman is driven to try and save Donna Troy from her affliction (she was bitten by a Black Lantern back in the
Blackest Night Titans mini
).
Meanwhile Hal is having issues with the Scarecrow and Lex Luthor getting rings with Sinestro chiming in that the ring chooses who is worthy of being the wearer. Hal, in typical defiant Hal manner, doesn't really care what the rules are and wants them stripped of their rings - to which Larfleeze agrees wholeheartedly! I hope that Lex's fondness for the orange ring leads to some sort of struggle with Larfleeze before the dust settles. I just can't see him being content to lose the ring without a fight.


Just as Hal starts to get the troops to fall back and regroup Black Lantern Spectre shows up. We haven't seen him in a while, although he did appear in the Phantom Stranger one-shot last week. Given their past it's no surprise that Hal would be the Spectre's target since he was first turned into a Black Lantern. The Spectre tells Hal that he'll be judged and we see that Hal has really come to terms with his past actions when he breaks out of the grip of the Spectre by destroying the hand itself and telling the Spectre that it won't be the first time he's been judged. This falls in line with Geoff's comments that part of this event is moving characters like Hal into the future, much like we saw with John Stewart last month in issue
forty-nine
.
But the Black Lantern Spectre is not so easily avoided and once he gets his tendrils on Hal he begins to transform Hal into a Black Lantern. Ganthet and Sayd will have none of that and rescue Hal before the change becomes permanent. Hal returns the favor, rescuing the Guardians from the jaws of the Spectre - and gives a great shout-out to "Star Wars: The Empire Strikes Back" that I'm still chuckling about as I type this.

As the battle continues there some very intriguing dialogue between Sayd and Atrocitus regarding the Spectre, with the revelation that the Spectre is a fusion of the red power of rage and death. I find it interesting given that we saw Atrocitus defy death when he was killed by the Five Inversions several issues back. Whether the fusion between the two in the form of the Spirit of Vengeance is a factor in that or not remains to be seen, but it's very curious that this link exists and that Atrocitus wants possession of the Spectre for some hidden agenda of his that I'm sure we'll learn about at some point. Because Geoff Johns doesn't take a dump without a plan..oh wait that's Russians! But you know what I mean, Johns doesn't put stuff like that in a book if he doesn't have plans for it down the road.

Speaking of using things down the road, Hal has a realization about events that occurred all the way back during "Green Lantern: Rebirth" that I doubt anyone else did. Seems that the reason why the Spectre didn't destroy Parallax back when Hal was freed from it's control wasn't because the Spectre was being all uppity - it was because the Spectre was afraid of Parallax. It's an interesting idea considering Atrocitus once talked about how rage and the red power was most noble and effective when it came from a place of pain and not revenge or fear. Could it be that the power of rage is weakened by fear? I think that on some level that's very true and it's interesting an commentary on human emotions.

Hal makes a fateful decision as he realizes that the New Guardians have their hands full with the Black Lantern Spectre and that if they cannot defeat him, then the really have no chance against Nekron at all. Ganthet summons the power batteries of all four of Earth's Green Lanterns and sets Parallax free in a nice two page spread from Doug Mahnke that almost looks like the entity of fear is jumping right out of the book.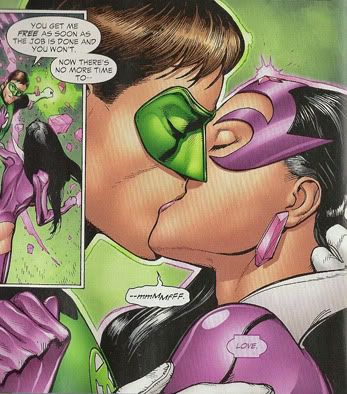 Of course that gets Sinestro's dander up and he wants to be bonded with Parallax, but Hal shuts him down in more ways than one and he reminds us that this time it's going to be different because he's overcome his fears and is a better man for it. Carol stops Hal short, pulling him close and kissing him, making sure that he knows she loves him.

I've like Cowgirl for the most part since her introduction in the series, but I've always felt that while she and Hal have much in common, Jillian is just a place holder for Hal. Carol is the one for him and she always will be, but they are literally star-crossed lovers. Carol's new control over the Star Sapphire and her actions in this arc should remind Hal of how important Carol is to him and that she can and should be a central figure in his life. They have a history that I think is one of the most complex and understated relationships in comics and I really hope that Geoff is laying some groundwork here for that to be explored in depth when Blackest Night ends.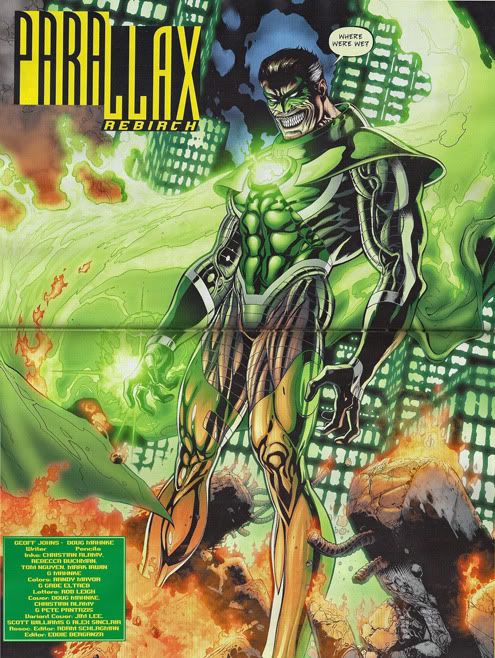 Hal grabs Parallax and pulls him in as he willingly offers himself as a host for the entity. There's an ominous explosion of yellow light and then you see a familiar image of Hal Jordan: Parallax with the ballsy callout of the Spectre, "So...Spectre. Where were we?"

The fact that Parallax returns here is no secret, heck it's on the cover, but what I really liked was how Johns used Hal's history with Parallax and, while he gave a nod to the first time Hal became Parallax, showed how Hal has progressed since then. Hal's ability to acknowledge the past while being unwilling to be held prisoner by it shows some great character growth - and it also serves notice to anyone out there who's still holding a grudge about the whole "Hal vs. Kyle" thing that this is history and that we all need to move forward.

Doug Mahnke, what more can you say other than he continues to impress the hell out of us. He's managed to catch all the drama and action without loosing anything. To think I was worried about losing Ivan Reis, not to say that I won't miss his work with Green Lantern once the Black Night is over. From cover to cover this issue was epic!

This issue is obviously a five lantern issue.