What a difference a day makes! Blackest Night #7 was released today and it's a doozy! Now there are things that I'm sure that some fans will not be pleased with. I, on the other hand, found it all made sense even though it's not necessarily what I wanted to see happen. But the reality is that the emotional spectrum pretty much predicates that what takes place in this issue is the only thing that could have happened.
I'm also really happy that I was at least exactly right on one of my pieces of
speculation from yesterday
, and pretty darn close with the Guardian's great lie. So, without further adieu, here's my review of Blackest Night #7, and it's not spoiler free.
Nekron continues his battle at Coast City, posing the question to a Guardian about why they guard the universe, to which the Guardian replies, "I do not remember". The rings of the New Guardians still have no effect on Nekron himself and Black Hand finally enters the fray for real.
Johns reminds us that Atrocitus and Black Hand have met before, when Abin Sur crashed on Earth, which is important because the missing piece to the puzzle of the death of Abin Sur is the reason why he came to Earth. What was it that he was looking for. By the end of the issue we'll have the answer to that puzzle that exonerates Hal's predecessor.
While Hal is dealing with Black Hand, the problem of giving a power ring to the likes of Lex Luthor and Scarecrow becomes evident and the influence of their respective power source drive them to become more of a liability than an asset. Luthor's avarice knows no bounds and when he decides that he wants all the rings he causes more problems for the New Guardians that they can handle.
Meanwhile John and the Black Lanterns from Xanshi battle high above Coast City and Airwave prevents John from communication with his compatriots just as all the Corps arrive on Earth, effectively bringing the Green Lantern Corps title fully into the main story after the Indigo Tribe teleported them all from Oa at the end of
Green Lantern Corps #45
. Ivan Reis once again out does himself with a great two pager:
Guy Gardner and company arrive on Earth.
While all the corps fight, we get a glimpse that something is inside the Black Lantern Power Battery; that something being the Anti-Monitor, who's defeat at the end of the Sinestro Corps War led to the infamous teaser for Blackest Night. It's then that the revelations of the story begin to make themselves known as Black Hand kills a Guardian and places his heart at the center of an emblem that has formed on the ground - the symbol of the Brightest Day that DC revealed a few weeks ago.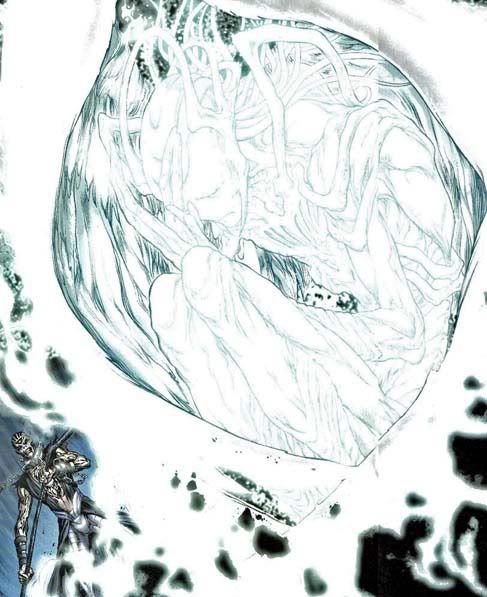 Coast City's most elusive citizen.
Ganthet tells Hal that Nekron is making contact, but does not elaborate with whom. Nekron then says "Trespasser....Rise" and bursting from beneath Coast City is an entity bursting with white light. Nekron's assault on the being causes pain to every living being. Then we bear witness to Ganthet's revelation.
While the Guardians may be the oldest living beings in the universe, life began on Earth. Not far from what I was
guessing
. This makes so much sense - it explains several things from the Guardian's reluctance to involve humans in the Corps, what Abin Sur was looking for, and why, once they let one human in the GLC, they added many to try to protect their secret. So important is this to the security of our universe that the Guardians allowed Abin Sur to loose face with the Corps and cast him in a bad light to discredit his belief in the prophecy he was told back in the "Tygers" story by Alan Moore.
The presence of the white entity also means that it probably has nothing to do with the disappearance of the Parallax entity in
Green Lantern #51
as I speculated, so somewhere out there Ion, Parallax and Predator are embroiled in events with some unknown being that I'm sure will be revealed to us in the issues to follow. If anything, I'm pleased that Geoff continues to lay groundwork for the future even in the middle of an event like this.
As the entity lay there defenseless, Hal realizes that someone must act as the host for it and he flies to embrace his destiny as the greatest lantern of them all. But before he can, the one guy I thought might rise to the occasion does and Sinestro stops Hal long enough to get there first. And the issue ends with a two page splash of Sinestro bathed in blinding light wearing the uniform of the White Lantern and proclaiming "I am the greatest lantern of them ALL!"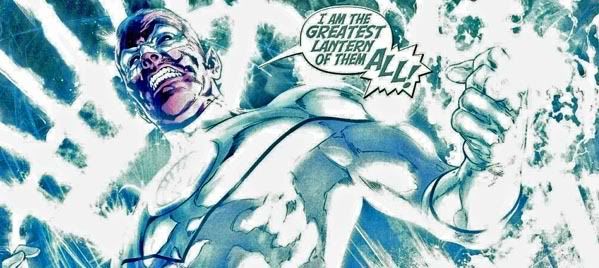 Nekron's worst nightmare.
The color work this issue was exceptional. Alex Sinclair has done a great job throughout this miniseries and I feel bad for not mentioning it before. It would be so easy for an event like this to look pretty ugly with all the different colors of the spectrum represented in the wardrobes of the characters and the their various energy signatures and constructs. But not once throughout the Blackest Night have I felt like it was starting to go too far and that's a credit to the whole art team.
There's also another great macabre tale from "The Book of the Black" that continues to paint the twisted portrait William Hand's childhood. This issues tale of murder and mayhem shows just how driven Hand is to kill anyone and how utterly without redemption he really is. I really love this little bonus tales of depravity and I'm still hoping that we'll see them collected in some sort of replica leather bound volume.
I know that many fans were not thrilled with the idea of a White Lantern from the very beginning when so many fans saw the possiblity, but really you have to know that there's no way you can have all the colors represented as part of an emotional spectrum, throw in the idea of Nekron and Black Lanterns, and not somehow have there be something using white. And it just makes sense no matter how corny it might sound. Hey, were suspending our disbelief pretty far as it is, so it's not too much of a stretch in my opinion.
And it
had
to be Sinestro. While it may be lead to his ultimate redemption for all his past actions, it just makes sense. He's the real Darth Vader in the Green Lantern mythology - and he's the one who will benefit the most from this new journey. In the end will he keep the white power? I don't think so, but I suspect that Geoff Johns has a plan for him that we're going to love to read in the coming months knowing that Green Lantern is one of three regular books that he's going to continue to write in addition to fulfilling his duties as DC Entertainment's
Chief Creative Officer
.
Once again Geoff Johns has taken all that we know about the DC Universe and added something new to it that we never knew before without undoing the reality created by his predecessors. I've read Green Lantern in particular for over thirty five years and while I don't have an encyclopedic knowledge, I feel that I have tred a path that covers pretty much all of the carpet of the the Green Lantern mythos. And, like he did with Green Lantern: Rebirth, Geoff has revealed that the carpet is bigger than we thought it was and that we'd only been walking in the areas we were aware of, completely in the dark to the existence of a much larger, ricer tapestry. To me that's a hallmark of a great writer who can add more without taking anything away.
It's such a great time to be Green Lantern fan - five out of five lanterns.