Robert Englund

Hot on the heels of the New York Comic Con animated series
panel announcement
, actor Robert Englund let slip today on Twitter that he had just done some voice work for the show. Englund, infamous for his potrayal of horror movie monster Freddie Kreuger, tweeted, "Just finished voicing a villain for the new GREEN LANTERN series. Worked with my buddy, Spiderman Josh Keaton." Keaton has numerous voiceover credits to his name, joining Neil Patrick Harris as the only person to have voice both Spiderman and the Flash.
With the debut of the animated show over a year away it seems somewhat premature that actors would be recording voices for the show, but it could be that work has begun early so that promotional footage can be assembled for marketing and promotional events like the upcoming Comic Con panel. Or it could be that Englund is confused and did voice work for the Green Lantern: Emerald Knights direct-to-video release that comes out next summer.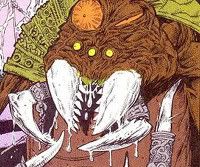 A member of the Spider Guild

The Daily Blam
contacted Mr. Englund, who elaborated that he voiced the character of Myglom, a member of the Spider Guild. The Spider Guild has a long history with the Green Lantern Corps in clashes resulting from the Guild's expansion across the galaxy.
It is promising to me that Warner Brothers is digging into the rich history of the Corps to give more presence to the diversity of adversaries for Green Lantern. In the eyes of the general public it's long been a case of Sinestro or nothing, so I look forward to seeing the likes of some of the more interesting antagonists as Warner Brothers starts mining the archives.
Related articles by Zemanta