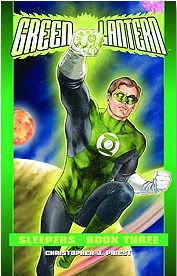 Graphic Audio
, the company who have done an absolutely fantastic job of bringing some of
DC's greatest stories
to the audio format, will be releasing their take on the
Green Lantern: Sleepers
trilogy later this year. Done with a full cast of actors with soundtracks and effects, Graphic Audio really does create "a movie in your mind" with their dramatizations that take you into the center of the story. I own a number of their recordings and I find myself getting a whole different experience when I listen to them.
In the past Graphic Audio has released audio versions of all three of DC's Crises and a virtually every DC inspired novel that's seen print, including Denny O'Neil's Green Lantern: Hero Quest novel. While I sincerely appreciate the work that the Graphic Audio gang puts into their work, the unfortunate thing is that there hasn't really been a good Green Lantern novel for them to adapt from, at least in my opinion. Hero Quest was by far one of the most difficult comic book novels I've read and I think only hallucinogenics could have made sense of it. Graphic Audio does a great job and I really want to listen to a great Green Lantern recording, but it's too bad that they just don't have some better source material to work with since they only work with novelizations and not comics directly.
One has only to read
Christopher Priest's tale
of how the
Sleepers
series of novels came to be to see that they were destined to be a flop. Had only he been able to tell the story he wanted then perhaps we would have had a better story for Graphic Audio to work with. I'll definitely pick them up just to see if they fare better than the books do, but it does leave me wishing that Greg Cox would do novels of
Green Lantern: Rebirth
,
The Sinestro Corps War
and
Blackest Night
- now those would all be great material for Graphic Audio to play with!