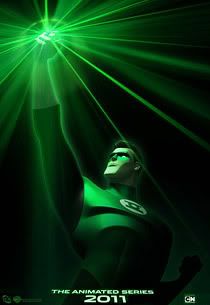 It was only a matter of time before Warner Brothers and subsequently DC Entertainment firmly allied themselves with the Cartoon Network. There's a long history of Warners partnering with the cable network to bring many animated projects to the small screen, and last years purchase of Marvel by Disney it was pretty obvious that the Cartoon Network and Warner Brothers would be looking to cement their relationship in a deal that would create an exclusive alliance. Warner Brothers and the Cartoon Network announced that deal at the network's "upfront" event that creates a dedicated home for future DC Entertainment endeavors in more than ninety nine million homes in the United States and more than one hundred sixty five nations around the globe.
Joining the returning Batman: The Brave and the Bold series and Young Justice will be the previously announced Green Lantern CGI animated series under the direction of animation legend Bruce Timm. A show description was included in the Warner Brothers press release:
Green Lantern: The Animated Series: Based upon the DC Comics super hero, the series is an all-new CG animated action series from Warner Bros. As Earth's Green Lantern, Hal Jordan is used to being in dangerous situations—but he's never faced anything like this! Set at the farthest reaches of deep space, Hal must face down an invasion from the Red Lantern Corps. Hal is soon joined by an all-new group of heroes on a mission to protect Guardian Space —and the Green Lantern Corps itself!
An interesting block of programming announced during the event is being called
DC Nation
. The press release description of the new endeavor describes DC Nation:
DC Nation: A multi-platform, branded block of original programming and exclusive content based on the DC Comics library of legendary character properties, DC Nation is developed in partnership with Cartoon Network, Warner Bros. and DC Entertainment. The all-new venture will harness the publishing, theatrical and television assets together for one powerful on-air block on Cartoon Network with exclusive online content.




Debuting in 2012 as a multi-platform franchise, DC Nation will be the exclusive home for original DC animation properties. Backed by the production, publishing and marketing resources of Warner Bros., DC Entertainment and Cartoon Network, DC Nation will be an on-air and online programming block populated with event programming, interstitials, exclusive behind-the-scenes of theatrical production and an insider look into the world of all things DC.

"DC Nation on Cartoon Network will be the first-ever dedicated broadcast destination to showcase the depth and breadth of the DC Universe," said Diane Nelson, President of DC Entertainment. "We and our partners at WBTV are thrilled that fans will be able to immerse themselves in DC's phenomenal stories, experience a wide spectrum of amazing characters and stay up-to-date on the latest happenings of the world's greatest superheroes and their creators, both on-air and online."