Last August
DC Beyond
, DC's family friendly entertainment portal, launched the
Green Lantern: Emerald Adventures
action adventure game. The game was able to be played in 3D and for a while you could get a Green Lantern mask that had the familiar red and blue lenses to give players a fun way to enjoy the 3D game play.
The game is gone now, but with the upcoming Green Lantern movie less than a month away Warner Brothers has created a special "
Green Lantern Beyond
" website that includes a number of computer
wallpaper images
for download and a brand new strategy card game called "
Green Lantern Battle Cards
". Battle Cards puts the player in charge of a squad of four Green Lanterns in the form of character cards who engage in a confrontation with four computer controlled enemy cards. Each card carries an attack value and a damage value with the goal being to score more damage against the computer controlled adversary over the four rounds of the battle. Both players have the option to enhance the attack power of their cards by leveraging "willpower" attack multipliers to increase the value of the battle damage their card has.
Both sides start with ten health points and ten willpower points. As you progress through the game you earn points which can be used to level up your cards and more cards are added to your deck the longer you play. Your four cards are randomly chosen from the eight card deck you construct to take into battle with you. Leveling up your cards results in an increase in the attack and damage values of your card as well as changing the animations your card does when played.
This game is a fun diversion and I could see this being turned into a two player game with real cards if Warner Brothers were interested in pursuing it. The cards on both sides represent film versions of the Green Lantern Corps and a number of enemies that should look pretty familiar to comic book readers.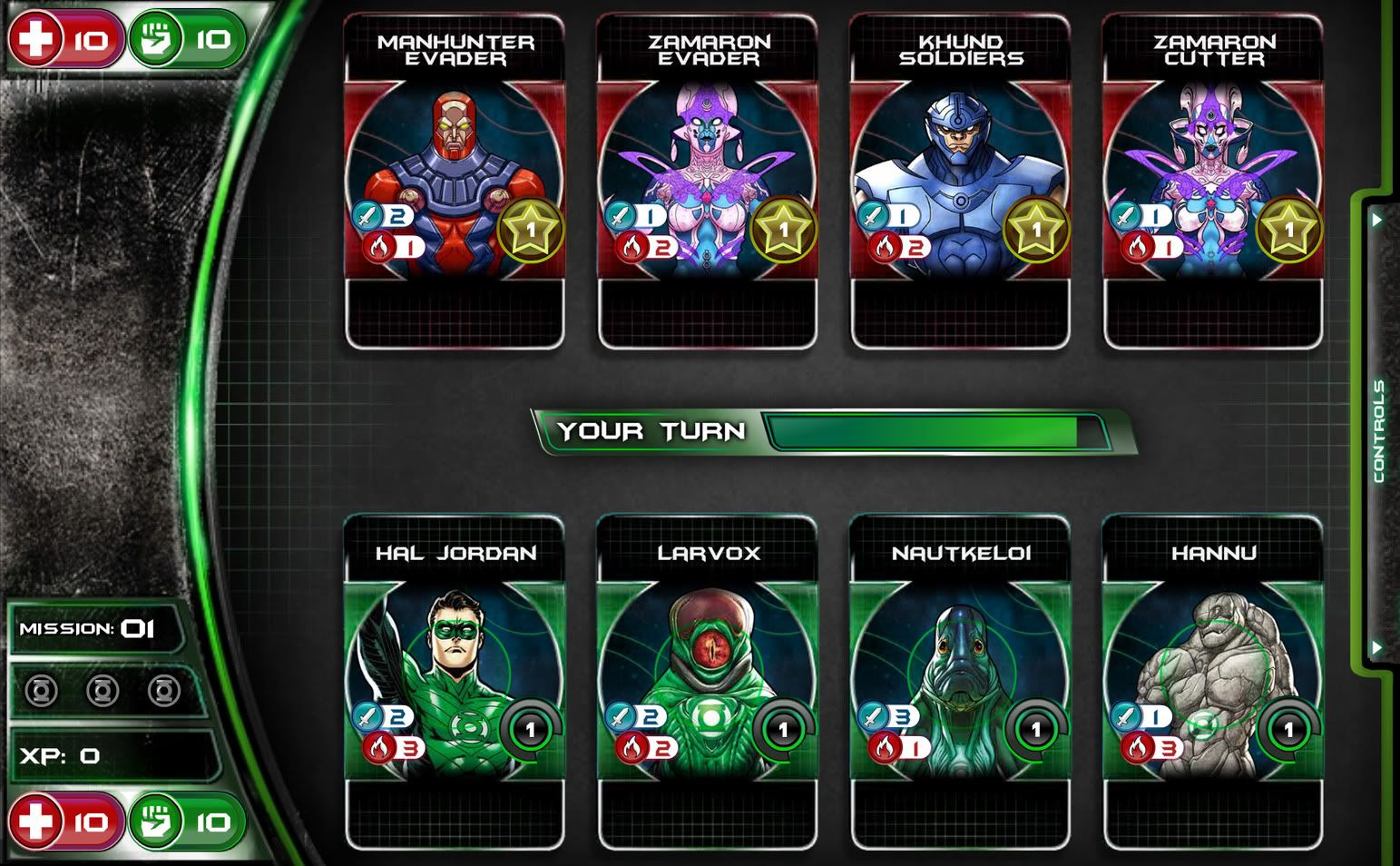 A Green Lantern Battle Cards battle is about to begin