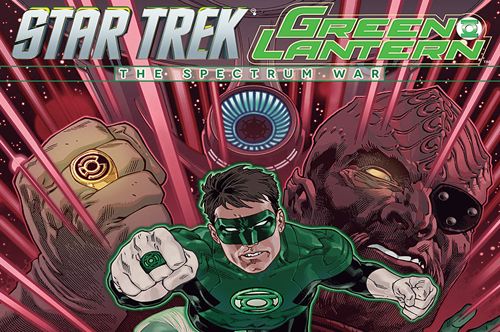 IDW and DC Comics are putting to of their biggest franchises together for a six issue limited series starting this summer in a team up of properties which seem to be made for each other.
Star Trek / Green Lantern: The Spectrum War
will have Hal Jordan and the Green Lantern Corps team up with the J.J. Abrams' version of Captain Kirk and the crew of the Enterprise.
The limited series will be written by Mike Johnson and illustrated by Angel Hernández. It's an interesting match up, especially given the recent rumors that Chris Pine, who plays Captain Kirk in the new films, is the name being passed around Hollywood
for the role of Hal Jordan
in the DC Cinematic Universe.
Here's the official description of the series and a couple of images released at this weekend's WonderCon.

"Set in Star Trek's 23rd Century, the balance of the universe will be tested when the Green Lantern Corps' Power Rings come into the possession of certain Star Trek characters while a dark and powerful evil looms around every corner. Only the combined power of the Green Lantern Corps and the Federation stand any chance of stopping those who worship evil's might."