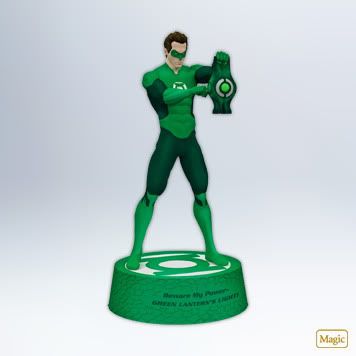 Last year
at this time I commented that I felt Hallmark missed the mark by releasing a Green Lantern Christmas ornament that didn't light up or play the oath. To my surprise I discovered that they have released a new ornament this year that includes both!
As a part of their 2012 Keepsake ornament line the new Green Lantern "Beware My Power" ornament features the film version of Hal Jordan standing on a pedestal which, when the side button is pressed, lights Hal up from the bottom while it plays Ryan Reynolds reciting the oath.
The new ornament is available now and retails for $19.95.