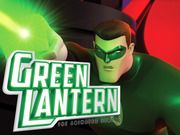 A moment that Green Lantern fans have waiting for is upon us with the arrival of this week's Green Lantern: The Animated Series episode – "Larfleeze".
More information on what you can do to try to save both DC Nation shows can be found
here
and
here
. Here's the official description of the episode as well as two preview clips and some new official promotional images provided by Warner Brothers.
"The crew of The Interceptor searches the planet Okaara for the mythical Orange Lantern battery as a way to combat the Aya Monitor. The problem is, it's guarded under the watchful, and very greedy, eyes of Larfleeze, the one and only Orange Lantern."
Be sure to check out the Blog of Oa (www.blogofoa.com) for the latest Green Lantern news and reviews.
"Green Lantern: The Animated Series" © Warner Bros. Entertainment Inc. "Green Lantern" and all related characters and elements are trademarks of and © DC Comics. Clips provided by Warner Brother Television.