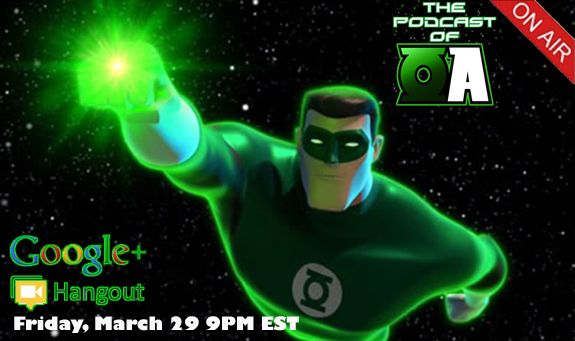 We've been wanting to do something a little different than our normal podcast episode for the season finale of
Green Lantern: The Animated Series
and that time has come. Friday March 29th at 9pm EST the Podcast of Oa will be broadcasting live via a
Google Hangout
and you can be a part of our conversation about the finale and the series as a whole. We're inviting fans to join us for this event which will be streamed live on our
YouTube channel
and here on the Blog of Oa for those who cannot participate. The video will be turned into our next podcast episode. Please note that you
don't
need a webcam to participate and you can just use a microphone and participate audibly.
Here's how you can be a part of it:
Create a Google+ account (it's free)
Send a message to the Blog of Oa via email (greenlantern@stny.rr.com) telling me the name you're using on Google Plus. We'll add to you a special "circle" that will get sent an invite to join in.
On the evening of the event you will receive an email at the address you used for your Google Plus account inviting you to join the Hangout event. Click on the link and you should be able to join in.
You can connect via computer or smartphone by downloading an app for your phone. PC users will need to download a plug-in (found here) in order to participate.
A few notes about participation:
This show is being streamed live and will be turned into a podcast and there might be minor listening and/or watching, so please no vulgarity.
Hangouts allow up to ten people to be connected at a time. Be mindful that there may be people waiting to join the Hangout who want to participate and we'd like everyone to have a chance to be a part of this that wants to.
If you try to connect to the Hangout and it's full you will be get a message telling you that. Try again, as people leave others will be able to join.
Have fun! We want to talk about what we love about the show and this is something unique we are doing for the community, so relax and have a good time!
This will be an experiment which will either be a rousing success or an epic train wreck! We hope to see and/or hear you Friday night!