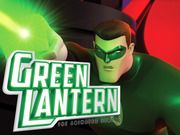 We are down to the final two episodes with this week's Green Lantern: The Animated Series episode – "Ranx". For those participating the the Twitter campaign, this week's hashtag is #CrashTheMonitor. Remember not to use the tag until Saturday March 9th and make it the only hashtag in your tweets!
More information on what you can do to try to save both DC Nation shows can be found
here
and
here
. Here's the official description of the episode as well as a preview clip and some new official promotional images provided by Warner Brothers.
"The Aya Monitor is after a secret weapon on the deserted planet Ranx, and sends a massive army of Manhunters to retrieve it. While Hal, Kilowog and Razer are ordered to the planet, the Green Lantern Corps, led by Guy Gardner, launch a simultaneous attack to beat her to it."
Be sure to check out the
Blog of Oa
(www.blogofoa.com) for the latest Green Lantern news and reviews.
"Green Lantern: The Animated Series" © Warner Bros. Entertainment Inc. "Green Lantern" and all related characters and elements are trademarks of and © DC Comics. Clips provided by Warner Brother Television.