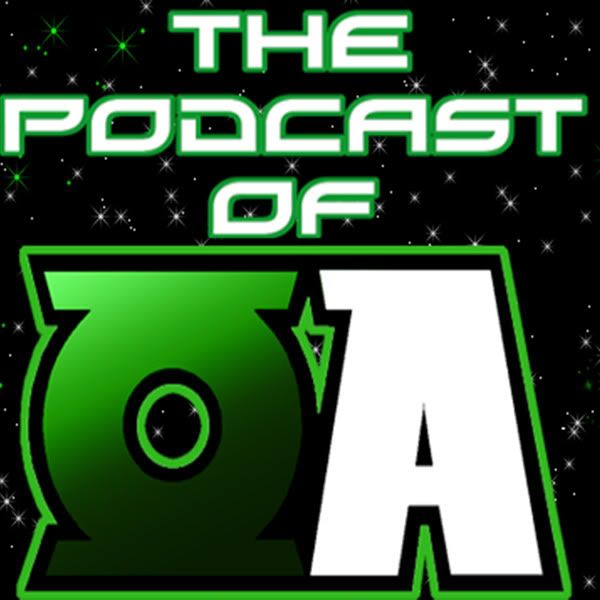 Co-host Myron Rumsey is joined by special guest co-host Sean Whelan from the
Raging Bullets podcast
for episode 46 of the
Podcast of Oa
. Sean and Myron talk about the recent controversy surrounding the alleged plan to kill off John Stewart and comment about Warner Brothers recent statements about an upcoming announcement addressing their plans for movies based on DC Comics properties.
This episode catches us up with the most recent issues of the Green Lantern family of books, covering the eighteenth issues of New Guardians and Red Lanterns, plus the nineteenth issues of Green Lantern and Green Lantern Corps. Along the way Sean names two more of the lesser known divisions of the emotional spectrum and we talk a bit about the impact that the Internet has had on comics and the relationships between fans and creators, death in comics and ways that the digital format could be leveraged to provide content that might not work as well in print.
The Podcast of Oa is the official podcast of the Blog of Oa and a proud member of the Comics Podcast Network. Share your comments and questions by calling the show's voicemail line at 406-PODOFOA (406-763-6362) while Skype users can leave a voicemail on the show's account, blogofoa. Send your emails to greenlantern@stny.rr.com. You can also find the Blog and Podcast of Oa on Facebook and Google+. The Podcast of Oa is sponsored by Heroes Your Mom Threw Out Comic Shop.
Green Lantern and other related characters are the copyrighted property of DC Comics Inc. and are used without permission. The Blog of Oa and the Podcast of Oa are fan productions and do not claim any ownership over the Green Lantern or any other copyrighted properties.
Show Links:
Raging Bullets podcast (www.ragingbullets,com)
Heroes Your Mom Threw Out Comic Shop (www.momthrewout.com)
Show Notes
00:00:00 Intro
00:09:40 John Stewart Controversy / DC Movie News
00:29:09 New Guardians #18
01:06:00 Red Lanterns #18
01:36:45 Green Lantern #19
02:19:00 Green Lantern Corps #19
02:33:10 Listener Feedback
02:47:45 Closing