"There aren't any sidelines!"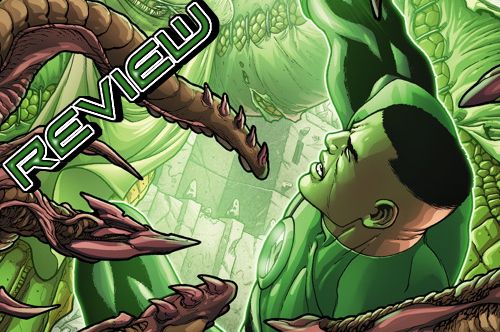 Van Jensen continues to forge a new future for John Stewart and the Green Lantern Corps and with today's release of issue twenty-nine he plays off of the nature of Von Daggle's character to keep the reader guessing as to which side will the Durlan member of the Corpse the pledge his allegiance – if indeed he ever truly sides with anyone. Jensen weaves the narrative in such a way that even when it seems that we know which side he's on he isn't.
Daggle's insistence on finding his female partner, R'amey Holl, points to the conclusion of the issue where we see that the Durlans are holding many Green Lanterns captive on Corona Seven, including what appears to be the Monarchist. Ironically that's the same planet where Holl and Guy Gardner teamed up with Daggle back in Green Lantern Corps #7-9 of the previous series. Holl appeared to have had minor appearances since then, notably during the War of the Green Lanterns, but she was never referred to by name, so I chalk it up to her successor in the Corps who happens to look a lot like R'amey!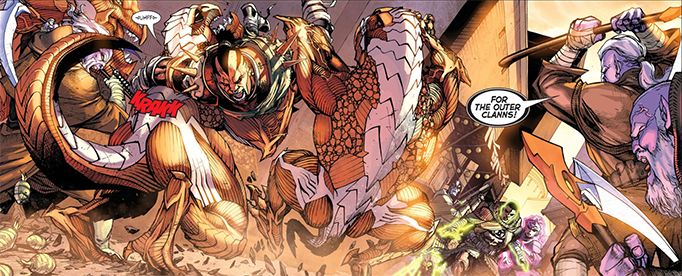 The action movie vibe continues from last issue with Von Daggle providing the intrigue
Jensen also alludes to an uprising against the Green Lantern Corps when Iolande and Hwaal goes in search of Soranik Natu at one of many "Shadow Markets" which have sprung up in response to all the years the Green Lanterns have fought crime in the universe. The uprising is something that has been teased as being on the near horizon as the rest of the universe prepares to bite the hand that has protected it for so long. Hwaal's interesting violent turn provides some depth to the character and the reader is left wondering what caused the mild mannered Green Lantern to snap. Jensen smartly drops the plot thread, leaving the reader to have something else to look forward to getting some narrative in a later issue. In fact the whole sequence at the Shadow Market serves to keep the plate spinning with regard to the disappearance of Natu and the return of Arkillo.
Hannu channels Bruce Lee
If that weren't enough there's also more fleshing out of the new Corps with Arisia embracing her role as drill instructor while Kilowog still struggles with his new role as the Protocol Officer. The whole scene only lasts a couple of pages but we still get to see Maro and the new recruits evolving into full fledged members of the Corps and Hannu make a strong philosophical statement about embracing all aspects of your own existence and not relying too heavily on any one thing, in this case that thing being a power ring. Seeing Hannu and Jruk wrestle in the background while Kilowog and Arisia chat was fun and I really like how Jensen is handling Arisia's evolution. She's a far cry from the little girl filled with wide eyed youthful exuberance and she carries herself with a great deal of grace. Artist Bernard Chang's version of the character portrays her new confidence well, providing her with and exotic yet mature appearance while toning down her…apt feminine charms.
Marcelo Maiolo's coloring work has really been fantastic of late and this issue is no exception. I'm torn in my opinion about the red background black and white action panels but I think overall I like the way they emphasize what's going on in the panel and provide a nice visual contrast. His work complements Chang's pencil very well and the two have helped to make the book what I think is the best looking of the Green Lantern family, Kilowog's design excluded.
Green Lantern Corps #29 is a really good example of how to showcase a number of ongoing plots without putting too much emphasis on any one of them to the point that the reader feels like there's too much crammed into one issue. The book feels denser than it is because there's so much effort placed on making sure that each element gets their due that there's little room for filler. Hat's off to Jensen for aptly providing a well crafted script and to Bernard Chang and Marcelo Maiolo for providing strong visuals to support the great script. Four out of five lanterns.