DC's film plans to be announced soon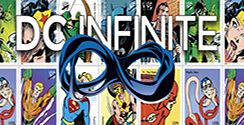 Our friends over at
DC Infinite
reported today on a new story which comes from a New York Times interview.
Warner Bros CEO Kevin Tsujihara in a interview with the New York Times has said that there will be a announcement soon on a new series of DC movies that will include a "Justice League" movie.
As for DC Entertainment, cross-studio collaboration to make better use of its comic book characters appears to have accelerated considerably since Mr. Tsujihara took over, in part because he eliminated some management layers. (He has not named a chief operating officer and did not replace Mr. Rosenblum and Mr. Robinov, choosing instead to divide up their duties and assume some himself.) Two new television shows are coming to the CW and Fox, including one based on the Flash and another on a young Batman, and a film series will be announced in the near future, Mr. Tsujihara said. It is expected to include a "Justice League" movie.
Underscoring his aggressive approach to the DC Comics universe, Mr. Tsujihara and Dan Fellman, Warner's domestic film distribution chief, recently moved the studio's untitled Batman-Superman movie — a hotly anticipated follow-up to last year's "Man of Steel" — to a release date in May 2016 previously claimed by Marvel for one of its own films. It created an industry dust-up, and Marvel retaliated with a date change of its own. But the move sent a blunt message: Warner takes a back seat to no one.
It looks like Warner Brothers is finally going to make their film plans known and hopefully along with the movie series we'll finally learn what character Dwayne "the Rock" Johnson will be playing as well as what future Green Lantern has on the big screen.
Source: DC Infinite, NY Times