Aquaman Takes Center Stage
If you waited through the end credits of
Justice League: War
you saw the teaser that hinted to the next major DC Direct to Animation feature that fits into their New 52 DC Animated Universe. Fans were miffed at first that Aquaman seemed to have been overlooked for the film, but the teaser implied that he would likely be the main focus of the next movie in the series. The next animated feature,
Justice League: Throne of Atlantis
, is set for an early 2015 release and today
TV Guide
had the first look at Arthur's character design and the revealed much of the cast list, including Nathan Fillion who will be voicing Green Lantern, reprising the role he's performed on multiple occasions and replacing Justin Kirk who played Hal Jordan in War.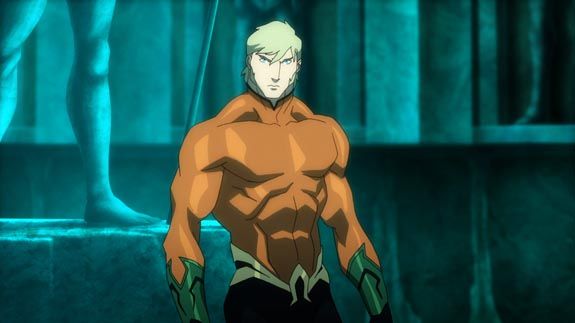 Aquaman's character design from Justice League: Throne of Atlantis
Starring in the feature is Matt Lanter (Star Wars: The Clone Wars) as Aquaman. Some of the cast from Justice League: War are returning, including Jason O'Mara (Batman), Shemar Moore (Cyborg), Christopher Gorham (the Flash) and Sean Astin (Shazam). Rosario Dawson will be voicing Wonder Woman and Jerry O'Connell will provide Superman's voice. Genre alum Sam Witwer (Being Human, Star Wars: The Clone Wars) will be playing Orm, Aquaman's brother who appeared in the the aforementioned teaser scene and will be calling for war on the surface world in the new film. Mera will be voiced by Sumalee Montano (Beware the Batman).