"No One Has to Die. No One"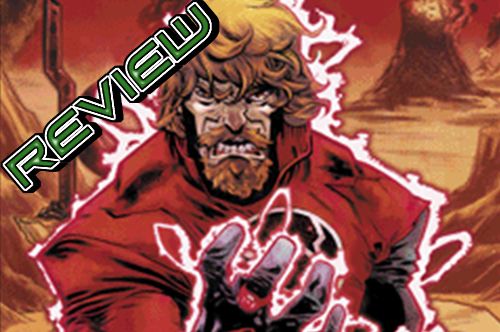 The potential fates of Earth's Green Lanterns hasn't been very bright and cheery and if you'd have told me that Guy Gardner of all people would live to see the day that Charles Soule gives him I would have laughed in your face. But
Red Lanterns: Futures End
#1 does just that in a highly rewarding if somewhat sappy tale that provides the same kind of resolution for our characters that Geoff Johns pulled off in
Green Lantern #20
.
Five years after defeating Atrocitus for the second time Soule's "What If?" tale unfolds as Bleez and Blue Lantern Guy Gardner are on the hunt to eliminate what few remaining Red Lanterns there are in the universe, and without revealing many details establishes that something has gone very, very wrong between Bleez and Rankorr, rechristened as Red King Jack. The two are on a collision course and by the end of the issue readers are rewarded with a rather hopeful ending that provides a fitting conclusion to the Red Lanterns story.
Soule's script is a perfectly executed glimpse into a future we'd actually want for these characters.
Perhaps the biggest surprise with this issue is the absence of Atrocitus, the character responsible for this serie's creation. At first I looked forward to seeing what Soule would establish for him and Dex-Starr but before long I found myself not caring one way or the other, something I think is a testament to how much Soule has done for this series which many readers had written off some time ago. Fully invested in the roster of this series, I found myself really rooting for at least a non-fatal ending for the three remaining main characters and I wasn't disappointed in the decisions that Soule made.
Visually I found this issue stunning with Jim Califiore's spectacular pencil work and superbly colored by Gabe Eltaeb. The opening page featuring a really great looking snake alien that Guy and Bleez were trying to free from the influence of the Red Lantern ring immediately drew me in to the story and seeing Bleez with all the red rings on her "wing bones" followed by the appearance of a calm, cool and collected Guy Gardner built a lot of anticipation as I knew what I was about to read has going to be something special. And Red King Jack's power ring chainmail was perfectly executed, providing a very character driven personal touch which quickly established how far Rankorr has gone to become what he does.

Guy Gardner fighting a battle with words and not his fists? Who'da thunk it!
Soule's character work seems like a very natural progression for the protagonists and although I'm really itching to know more about what went down between Bleez and Rankorr I felt like Soule gave me just enough contextually that I didn't have to know all the details. The chemistry between Guy and Bleez seems very natural and it's not too hard to see how their relationship really could evolve and become what we have here.
Red Lanterns: Futures End #1 is the second issue in a row that has a script which could easily be used to end the entire series; it's almost like Charles Soule were ending his run or something! This issue really illustrates what an impact the writer has had on this title and why he'll be sorely missed, providing a well crafted future that readers would actually want to have come to pass. This issue leaves the reader wanting more and for me it is the pick of the Green Lantern family litter this month. Five out of five lanterns!