I love it when two of my hobbies intersect and as an avid gamer there's been some great games based on DC Comics, including one of my current favorites, the
DC Comics Deck Building
game by
Cryptozoic Entertainment
. In a nutshell players take on the roles of DC's greatest heroes each with their own special ability, strategically building a deck of powerful cards and using the power they generate to take down supervillains in a contest to see who can earn the most victory points.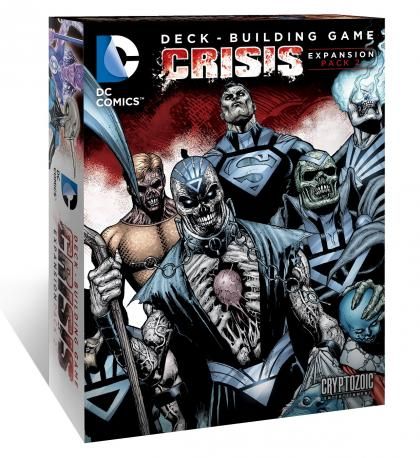 The original base game included Hal Jordan as one of the playable heroes and included Atrocitus, Sinestro and Parallax as supervillains. Last year's followup, Heroes Unite, introduced a number of elements from the Green Lantern universe and the first Crisis Expansion turned the competitive game into a cooperative one as a team of heroes take on the supervillains while contending with a number of familiar universe. An upcoming expansion, Crisis Expansion 2, seems to be taking an interesting direction, featuring a number of Black Lanterns on the cover of the box.
The new set was recently unveiled during an interview with
Oomba
as a product to be released in the first quarter of 2015. A screen grab from the back of the box from the interview reveals that Indigo-1, Saint Walker, Kyle Rayner, Star Sapphire and Red Lantern Supergirl will be playable heroes in the expansion. Also included will be 15 new Crisis events, 15 new supervillains and dozens of new cards to incorporate into your card collection. Given the cover art it would not be too difficult to picture Blackest Night as one of the Crisis events with Black Hand or Nekron becoming the major supervillain of the expansion. With some effort it would not be too difficult to construct a game deck built around a fair number of Green Lantern centric characters, locations and abilities.
While a price and a specific release date have not been officially announced, if the pricing stays consistent with the first Crisis expansion it should retail for $20. In addition to this expansion, Crptozoic Entertainment also revealed a Justice Society booster pack which will allow gamers to replace heroes and villains with JSA characters for later this year.