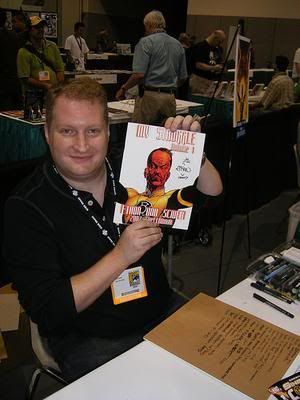 Ethan Van Sciver returns!
While there hasn't been a lot of Green Lantern news coming out of this weekend's C2E2 convention there have been a couple bits of news of note about the Green Lantern universe. Among all the DC universe news is that when pressed for the Orange Lantern Oath Geoff Johns indicated that we'll be seeing much more from Larfleeze in the future.
Johns also indicated that the "Revenge of the Black Hand" story arc will conclude in a annual and will mark the return of artist Ethan Van Sciver to the Green Lantern universe. Johns also indicated that the story's conclusion will be "very special". He also said that we'd find out pretty much everything there is to know about the Indigo Tribe over the next two part of the "Secret of the Indigo Tribe" story.
At the DC Collectibles panel yesterday it was also mentioned that they are considering a beach ball sized Mogo. The video below also mentions that there is a "Welcome to Coast City" art print coming from the relaunched company. And as previously announced DC Collectibles will be putting out a
Sinestro Green Lantern bust
exclusively through their new online web store.