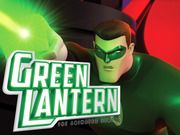 DC Nation fans who record the Cartoon Network programming block on their DVR or Tivo may be in for a surprise if they don't check the set up on their devices. Reportedly at least one programming guide doesn't not list the upcoming episodes as new, perhaps as confused by the hiatus as viewers have been since the network abruptly stopped airing the shows back in October. What this could mean is that your recording device might consider them repeats and if you've set up the device to only record new episodes you might find yourself without the new shows sitting on your device's hard drive.
A recommendation would be to check your device's upcoming recording schedule to make sure the episodes are still scheduled to record over the next several weeks. You should be able to manually add them from your program guide, but a word of warning about looking at the program guide's episode descriptions. Apparently spoiler filled loglines were released and there's just no knowing where they might show up, so be prepared to ignore the episode descriptions if you can.
Here's a spoiler-free listing the upcoming episode titles that might be affected. All episodes air at 10 AM (ET/PT).
Saturday, January 12th, "Blue Hope"
Saturday, January 19th, "Prisoner of Sinestro"
Saturday, January 26th, "Loss"
Saturday, February 2nd, "Cold Fury"
I for one am excited to the shows back on the air and can finally start looking forward to Saturday mornings again! Here's the preview clip for this weekend's kind-of-new episode, "Steam Lantern".