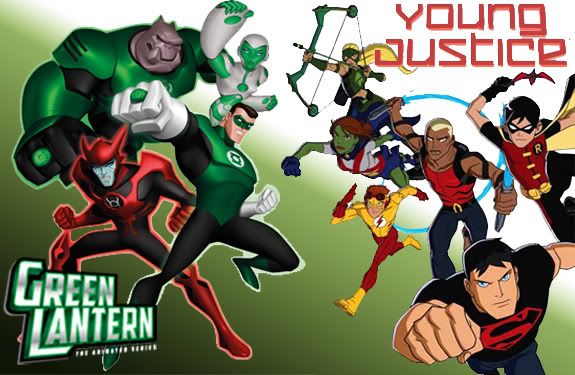 Fans of Green Lantern: The Animated Series and Young Justice have been feeling the pain since the Cartoon Network made their official announcement about their fall lineup, leaving both shows off the new schedule. While the network is hiding behind their "shows will run their course" and "we're aren't canceling anything" statements, the fact remains that they have no intention of airing either series beyond the episodes which were produced some time ago.
There are varying theories out there as to why Cartoon Network made their decisions, ranging from appealing to the wrong demographic to ratings to an executive decision to tactically get rid of action adventure shows in favor of lighter fare in the face of a declining performance by the network as a whole. It could be all of those things or none and we likely aren't going to get an official explanation anytime soon and I don't expect anyone connected to the shows are going to able to speak out due to contracts and studio mandates to keep mum.
We are all pretty raw and I'm no exception. During a recording of the latest Podcast of Oa which was recorded the day the announcement was made I went into a very uncharacteristic expletive laced rant and everyone from Diane Nelson to the Avengers got in my crosshairs. I'm not particularly proud of it, but it will air with an explicit tag nonetheless simply because it's my authentic uncensored reaction despite my reservations of it living on long after I'm gone.
The question is how do we move forward if we are to try to save these shows, and that's if they are able to be saved. A lot of great people have begun to band together online and start an online petition and post some very useful information about who to contact and good practices for when you do. So I want to make sure to give credit where it's due, because none of this comes from the Blog of Oa – and I compile it here as a resource for anyone who wants to know how they can do something and may not have found this information on their own. Being a clearinghouse of information is one of the reasons I started the site so I'm happy to pass all of this on. And for those who are organizing and would like me to shine a beacon of green energy their way or have an idea that I can help with – just contact me using the contact button above, or just shoot an email to greenlantern@stny.rr.com.
First of all there is a great Facebook page – Bring Back Green Lantern: TAS and Young Justice for those want to visit another place where you can find information on how to have your voice heard by the Powers that Be.
There is an online petition to save the shows here – they are only a few thousand signatures away from their goal and everyone's counts.
Of course, TV Executives have a language all their own – money talks. Buying the episodes digitally and getting others to watch the show can help, too.
When contacting anyone to express your desire to see these shows continue, remain calm and express yourself politely. Rudeness is the one way that your opinion will not count because they will simply discard it out of hand. Explain how much you love the show, what it means to you and your family and your disappointment over the decision not to continue them. If you're posting online don't be afraid to contact people everyday if you like. For some great tips on the Do's and Do Not's visit the GL:TAS Tumblr page.
Twitter accounts of note:
Cartoon Network – @cartoonnetwork
DC Nation – @DC_Nation
Facebook pages:
Cartoon Network
DC Nation
If Email or a letter is more your speed, here are some names, email addresses and phone numbers of people at Cartoon Network. These all come courtesy of the Like the Cheshire Cat Tumblr page.
ATLANTA:
James Anderson
SVP, Cartoon Network/Adult Swim
Georgia
Phone: 404.885.4205
Email: james.anderson@turner.com
Joe Swaney
Director, Cartoon Network
Georgia
Phone: 404-885-0657
Email: joe.swaney@turner.com
Wendy Rutherford
Director, Cartoon Network/Adult Swim
Georgia
Phone: 404-827-5097
Email: wendy.rutherford@turner.com
Katie Gordon
Manager, Cartoon Network
Phone: 404-885-0643
Email: katie.gordon@turner.com
Angie Weiss
Publicist, Cartoon Network
Phone: 404-575-5077
Email: angeline.weiss@turner.com
LOS ANGELES:
Courtenay Palaski
VP, Cartoon Network/Adult Swim
California
Phone: 310.788-6903
Email: courtenay.palaski@turner.com
Dawn Lach
Manager, Cartoon Network
Phone: 310-788-6787
Email: dawn.lach@turner.com
NEW YORK:
Adrienne D'amato
Director, Cartoon Network/Adult Swim
New York
Phone: 212.275.8235
Email: adrienne.damato@turner.com
Shana Ungerson
Sr. Publicist, Cartoon Network
Phone: 212-275-8012
Email: shana.ungerson@turner.com
Cartoon Network also has a viewer comment line – 1-877-827-2671