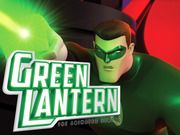 Many of us saw the
news
this morning that both
Green Lantern: The Animated Series
and
Young Justice
were omitted from a Cartoon Network press release about their coming 2013-14 season. While the omission wasn't a statement of cancelation,
Newsarama
is now reporting that a Warner Brother spokesman has confirmed that both shows will not be returning after the completion of their current season despite strong ratings performances and good sales on digital marketplaces.
I'm not really sure what else to say at this point other than it is a complete disappointment to see something so well crafted and executed not given a chance to endure by a network which so clearly doesn't know what it's doing. As often said the network only cares how their shows move product and in Green Lantern's case the show was never given the chance to show it could since no mainstream marketplace merchandising was ever generated. My many thanks to the producers, writers, actors, animators and everyone else associated with the series who have made it very, very special for this Green Lantern fan.