Also clears up rumors on another GL project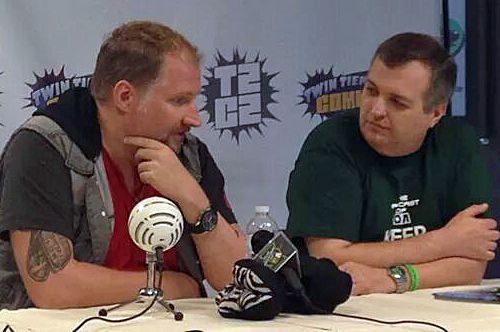 Ethan Van Sciver (l) and Myron Rumsey (r)
We had the pleasure of moderating a panel with artist Ethan Van Sciver at our local comics convention, celebrating the ten year anniversary of Green Lantern: Rebirth and recording our conversation for The Podcast of Oa. The day before I gave Ethan one of our Keep Calm and Charge Your Ring T-Shirts and he looked at me mischievously and said, "I'll have a very good reason to wear this shirt very soon!" This, of course, got me thinking about whether he and Geoff Johns might be coming back to do something Green Lantern related, or, more likely, that the mystery Green Lantern project that Gail Simone referred to a couple of year's ago was finally going to see the light of day.
I went into the interview hoping he'd provide some real details but I knew that it wasn't likely given the confidentiality that these kinds of announcements require. We did walk away with more than I'd hoped for, including some previously unknown information on his project with Simone. While Van Sciver is indeed returning to the Green Lantern universe, it will
not
be by working with either Johns
or
Simone – instead it will be a project with
Green Lantern Corps
writer, Van Jensen. Whether this is on the ongoing regular monthly series, a mini series, or a one-shot is unknown as this time and Ethan wasn't in a position to provide any more information than that.
An interesting footnote to this comment is that in the days between the panel Ethan posted a comment on Facebook that he is working on a four page fold out poster for a New Gods book. Knowing that Godhead is a Green Lantern / New Gods event it could be that the New Gods project Van Sciver referred to on Facebook is a part of the Godhead event written by Jensen, or it could be something altogether different. Nothing has been stated; that's just me connecting bits of information into a plausible theory.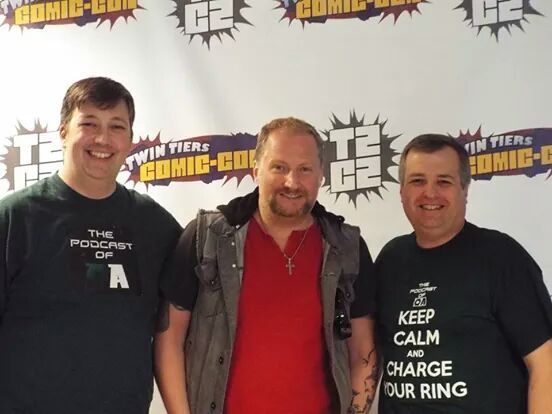 Bill Giancoli, Ethan Van Sciver and Myron Rumsey
When asked about the Gail Simone project, Van Sciver at first didn't recall it. The project, a 90 page graphic novel, was first mentioned by Simone in a 2012 interview and forgotten about until the subject came up again last summer when Simone tweeted a link to a finished page on Van Sciver's Facebook page. When I reminded him of that, Ethan clarified by saying that the book wasn't a Green Lantern project per se, but that they did feature in it, describing a scene where the Green Lantern Corps puts Earth in quarantine. This description matches the image below of that finished page, showing a large number of Green Lantern enveloping the Earth in a giant protective bubble. Van Sciver also stated that this unnamed project had been "put on pause" by DC Comics and that he'd completed fifty or so pages from it. He also got lost in thought recalling the events in the story revolving around Superman breaking the barrier and the ensuing interactions with the Green Lanterns. You can listen to the panel in Episode 71 of The Podcast of Oa where Ethan talks about H.E.A.T., his role in bringing back Sinestro, getting the call to finish Geoff Johns' run and more. If you'd like to watch the panel, we have a viewable copy here.