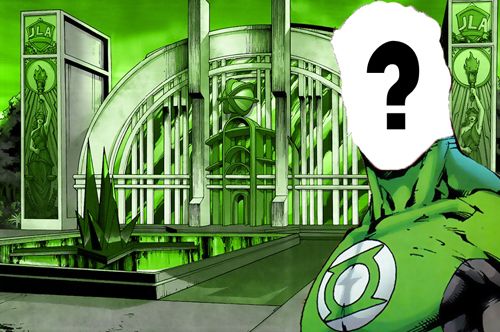 We are still five years away from the next Warner Brother Green Lantern movie, but the expectation that a ring slinger will, and should, be a part of the preceding Justice League films has kept fans looking for some signs of casting. There has been a fresh crop of rumors surfacing lately, but nothing we've heard yet has the air of validity to it beyond people trying to get some web hits or trying to stir the fan base.
Rumors have persisted that Green Lantern will not be a part of the first Justice League film other than potentially arriving near the end of the film to warn the newly formed team that Darkseid is on his way. Another is that Green Lantern will die in those moments to add impact to the impending arrival of Darkseid and make way for a new protector of Sector 2814, likely John Stewart, for the second film.
It's been making the rounds that supposedly Zack Snyder wants to go with a middle aged Hal Jordan who is a war weary soldier, adding that Oa is "doomed". It wouldn't be hard to see how that would dovetail into the aforementioned rumors, especially if Darkseid were to be heading to Earth by way of Oa.
This past week we also have the attempt by Tyrese Gibson, or his publicity team, to stir up rumors that he's in the running to play Green Lantern. If he were, spouting out about it on social media is a quick and easy way to get yourself out of contention really quick and I quite honestly think that it's nothing more than trying to get people talking about him more than anything legitimate.
I'm not sure what quite to make from those rumors other than that I'm not a fan of any of the recent rumors if that's really what Warner Brothers and DC Entertainment has in mind. It's no secret that there's only one character that should
wear the ring
in the upcoming slate of films based on many different factors, and that's Hal Jordan. If we are looking at the DC Cinematic Universe as being in "phase 1" there
should
be some thought about its longevity and how it evolves. There's time to expand the Corps and it needs to be done in a way that builds upon itself.
I've said it before – soft reboot Hal Jordan and move forward, finding organic universe building ways to add to the mythology. We know that
Stephen Amell wants to see Hal
show up on
Arrow
and that's a great forum to re-introduce the general population to a live action version of the character. We'll know before too long what the cinematic plans are for Green Lantern but until then the rumor mill will continue to churn away.