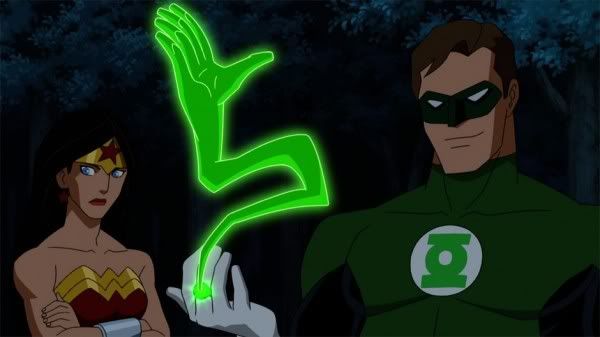 A scene from "Justice League: Doom"
Yesterday we learned that Nathan Fillion was among the cast for the 2012 DC Universe animated feature "Justice League: Doom", returning to the role of Green Lantern Hal Jordan alongside a cast of voices very familiar to DC animation fans. Today Warner Brothers makes another announcement about the voice casting for the direct to video release which reveals some of the villains that will be up against the Justice League and even more voice talent that will make fans happy.
Vandal Savage will appear, voiced by Phil Morris (Smallville), Olivia d'Abo (The Wonder Years) as Star Sapphire, and Alexis Denisof (Angel) as Mirror Master. Also opposing our heroes are Carlos Alazraqui (Reno 911) as Bane, Paul Blackthorne (The Dresden Files) as Metallo, and Claudia Black (Farscape, Stargate SG-1) as Cheetah. David Kaufman (Danny Phantom) also reprises his Justice League role of Jimmy Olsen. The voice casting for the Royal Flush Gang have not been announced yet.
Warner Home Video will premiere the Justice League: Doom trailer during its presentation at New York Comic Con on Friday, October 14 from 3:00-4:00 p.m. in the IGN Theater. Also premiering during that session will be the Catwoman animated short that is attached to Batman: Year One, the next DC Universe Animated Movie which releases on October 18.