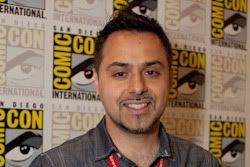 Giancarlo Volpe
Yesterday WonderCon kicked off the opening of the convention season in Anaheim, California and today during day two's activities DC Entertainment hosted a special DC Nation panel talking about the new Cartoon Network programming. Green Lantern: The Animated Series producers Giancarlo Volpe and Jim Krieg were on hand to talk about the new show and show off a four and a half minute reel of footage showing off some great things we can expect to see this season.
During the panel the producers hinted at seeing Sinestro at some point down the road and when asked during the Q&A about characters like Guy Gardner and Kyle Rayner Krieg responded that we might see some characters "like them". Volpe also responded to a call for a Blackest Night type of story in the animated series to which he replied that he has an idea of how to do it and whether or not they could do an adaptation would depend on the success of the show.
The following reel was shared with those in attendance and does contain some spoilers about some of the characters we will see in upcoming weeks, so anyone who doesn't want to know should not watch the video.