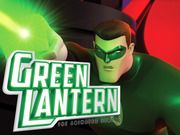 Green Lantern: The Animated Series
only has five more episodes unless the forces of stupidity at the Cartoon Network reverse their course. This week's episode "Love is a Battlefield" features the return of both Atrocitus and Carol Ferris and it looks like there will be more fireworks than that time Hal forgot to buy Carol flowers and chocolate for Valentines Day!
If you are participating in this weekend's Twitter campaign, the hashtag phrase that pays is #LoveLanternJustice which you should include in your tweets – but remember not to use it until Saturday morning and make it the
only
hastag in your tweet. More information on what you can do to try to save both DC Nation shows can be found
here
and
here
.
Here's the official description of the episode as well as two preview clips and some new official promotional images provided by Warner Brothers.
"The evil Aya Monitor invades the planet Zamaron, blaming the Star Sapphires for the pain she feels from her heartbreak. The unsuspecting Carol Ferris is summoned to represent Love in a battle against Hate's champion, Atrocitus of the Red Lantern Corps. "
Be sure to check out the
Blog of Oa
(www.blogofoa.com) for the latest Green Lantern news and reviews.
"Green Lantern: The Animated Series" © Warner Bros. Entertainment Inc. "Green Lantern" and all related characters and elements are trademarks of and © DC Comics. Clips provided by Warner Brother Television.