There was plenty of Green Lantern news this year at the San Diego Comic-Con, although some of the news comes in the form of a lack of news about Green Lantern on certain fronts, particularly when it comes to Green Lantern in other media and no one addressing the fates of fan favorite DC Nation series. Here's a run down of what we learned from this year's most significant convention including information the Blog of Oa has previously reported.

Diane Nelson, President of DC Entertainment, preceded the start of the convention with comments about the state of Warner Brothers DC films including her assessment of Green Lantern's disappointing results and some of the characters she'd like to see on the silver screen. Significantly absent from her conversation was any talk of a Justice League movie or a sequel to Green Lantern. More details on this can be found in this previous blog entry.
The same day DC Entertainment released a trailer for the upcoming documentary
Necessary Evil
. During the actual convention the trailer was shown after a brief clip from narrator and film legend Christopher Lee. You can see the trailer
here
.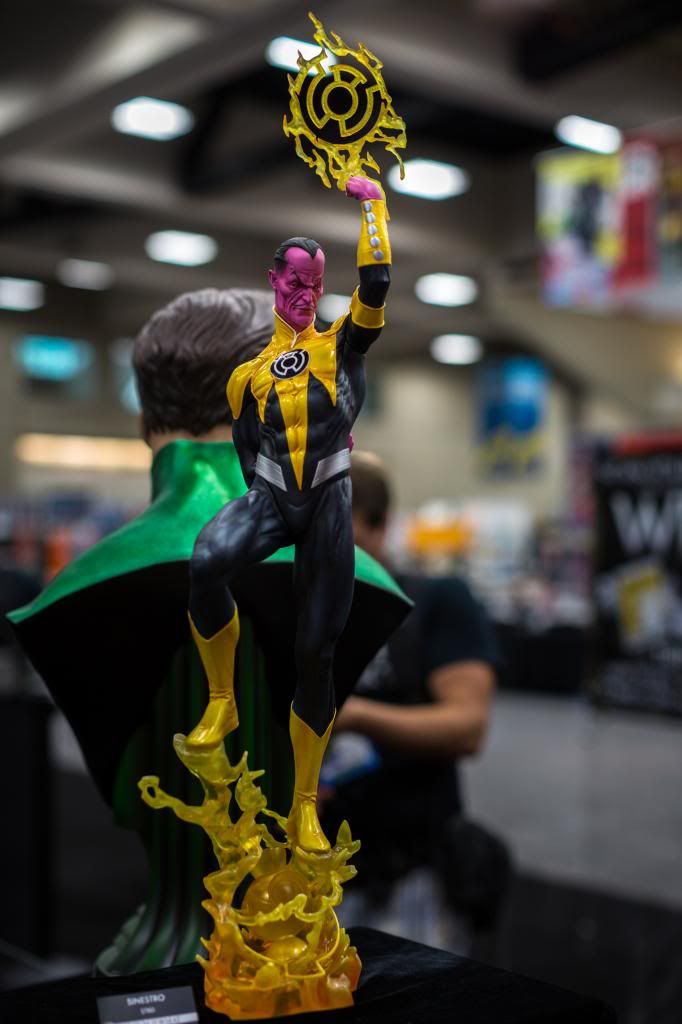 Sideshow's Sinestro statue
The Robot Chicken crew officially announced a sequel to the Emmy nominated DC Comics special which just had its home video release. The second special is planned for a 2014 release and will be driven by a Romeo and Juliet inspired love story.
On the collectibles front Green Lantern and Sinestro both figure into an upcoming
Justice League Chess Set
by DC Collectibles while Sinestro appears in a set of
vinyl figures
supporting the upcoming
Scribblenauts Unmasked
video game. Meanwhile Hal Jordan also made an appearance on the show floor in the form of a
twelve inch die cast figure
which features lighting details and a $350+ price tag.
Sideshow Collectibles had the upcoming full scale bust of Hal Jordan on display as well as their Sinestro premium format figure, a companion piece to the recently released Hal statue.
Robert Venditti
Green Lantern writer Robert Venditti spoke on the importance of Relic to the Green Lantern family of books as well as Nol-Anj, the newest addition to the Star Sapphires. Red Lanterns writer Charles Soule touched on Guy Gardner's new role as their leader.
Comic-Con saw the world debut of Justice League: The Flashpoint Paradox, Warner Brothers' latest entry in the growing catalog of direct to video animated features. This one happened to have some creative connections to Green Lantern: The Animated Series having been written by co-producer Jim Krieg and scored by Frederik Wiedmann. Nathan Fillion voiced Hal Jordan in the movie for the small role that Green Lantern played in the story. The 2014 slate of films is scheduled to be a second Justice League story, Justice League: War, based on the New 52 relaunch story by Geoff Johns on the formation of the team in light of Darkseid's invasion of Earth. The other films will both be Batman centric: Son of Batman, based on the Grant Morrison Batman and Son story arc, and Batman: Assault on Arkham, based on the world created in the highly successful Batman video game series.
Geoff Johns touched on his tenure on
Green Lantern
saying that the conclusion to his run in
issue twenty
was his way of saying how the characters would end up if he were to write them forever, adding, "…..I wanted to have closure. The human guys — Hal, Kyle, John — I wanted to give them their sendoff." Johns also confirmed that Hal Jordan would re-enter the
Justice League
book in 2014 and the tension between Hal and Batman would start up again. It was also said that Sinestro and Black Adam would find a lot of mutual admiration during the
Forever Evil
event that DC has coming up after
Trinity War
.
Saturday saw the biggest news as Warner Brothers officially announced a sequel to Man of Steel which would include Batman in what can only be taken as the first step towards a Justice League movie. The movie is being written now with a 2015 release date. Un-officially mentioned via the Hollywood Reporter was that a Flash movie was in the works for 2016 with Justice League in 2017. It's big news that made national headlines and that's a good thing, however in my opinion at least it's not an aggressive enough plan considering what Marvel did in terms of showing something far more tangible than a logo to represent their commitment to bringing their stable of characters to the big screen. 2017 is a full four years away if the information is to be believed – too far in my opinion.
Too little too late, or just right?
That same day came the
Green Lantern: Recharged!
panel, the first chance for the new creative teams to address fans on where they plan to take the franchise. With Lights Out in the near future there wasn't much news per se, but the writers indicated that since they were relatively new to most readers they wanted to show fans that they have a very risky and ambitious story planned as their way of introducing themselves.
Bleeding Cool's rumor
that DC would announced a Matt Kindt Sinestro series proved false as no announcement was made. Robert Venditti did say that we'd be seeing more about the entities of the emotional spectrum in the coming months and that there may be a few Earth bound adventures for Hal on the horizon, but remained mum on the topic of Jessica Cruz, the first female Green Lantern from Earth that Geoff Johns foreshadowed in
Green Lantern #20
.
Finally, on Sunday Dan Didio and Jim Lee blew a major spoiler by revealing that Lights Out would literally mean the end of the of Corps as Relic would destroy its battery as well. MTV carried a video interview which spilled the beans, saying, "what happens when the power battery runs dry to all the lanterns and all the rings?' How do they defend the universe?" You can catch the interview below.