Day one of the 2013 San Diego Comic Con is winding down and there's been some Green Lantern news coming out of today's festivities. At one panel Geoff Johns confirmed that we'd be seeing Hal Jordan in the Justice League again as well as a continuation of the tension between Hal and Batman. Johns also said that the coming Forever Evil event leads to the unlikely bromance between Sinestro and Black Adam.
Robert Venditti
Green Lantern writer Robert Venditti, in his first convention since taking on the series, stated that Relic would be a crucial character for the family of books and said that we'd be seeing a lot more of Nol-Anj, the criminal who escaped from Oa in
Green Lantern #22
after becoming a Star Sapphire and killing Green Lantern Cossite. Nol-Anj will allow Venditti to explore the Star Sapphires from a different angle.
Red Lanterns writer Charles Soule stated that there will be a change to the status quo for the Red Lanterns in this months twenty second issue. "Guy Gardner gets his in a way and the way it plays out is really interesting," Soule said.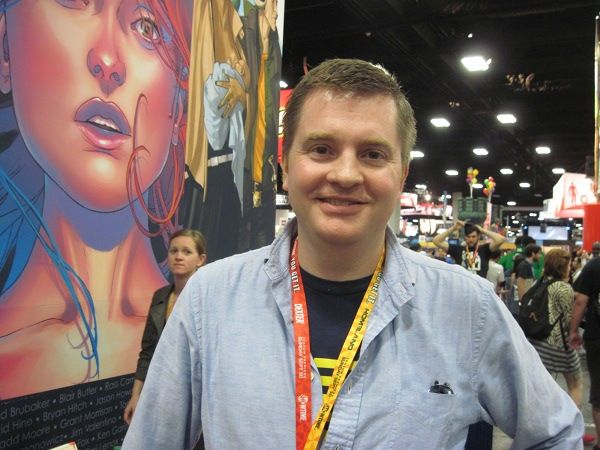 Charles Soule
Guy will be looking to take the Red Lanterns off of Ysmault in search of a new base of operations. Soule told the audience that he had a line of dialogue that he didn't think would get approval by the editor but did.
More news should be coming later this evening regarding the upcoming slate of DC animated films and tomorrow should bring more news when the Green Lantern panel takes place…and we (hopefully) get some news on DC's near future cinematic plans.