DC Heroes join the competitive tabletop arena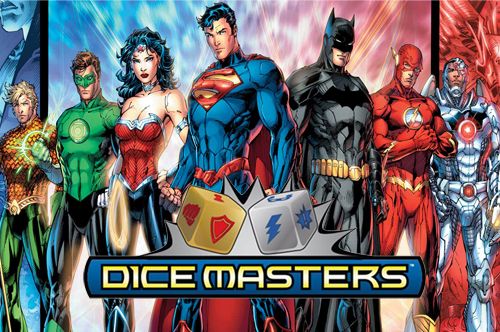 Besides being a Green Lantern fan I'm also a tabletop gaming enthusiast, so I was delighted to hear that WizKids games is bringing DC Comics characters to their competitive dice building game, Dice Masters. Dice building games are not ones where the players actually build dice, but they build a pool of dice which builds with each turn as the outcome of each player's dice roll allows them to buy more powerful dice from their reserves or attack their opponent. If you've played a deck building game it's very much the same concept but with dice instead of cards.
The 2 player starter set
Where the superhero them ties in is that the dice in your reserves represent comic book characters, each with their own unique abilities that present the player with various advantages depending on the dice you have to roll on your turn. The starter set, containing 44 dice, 38 cards, 2 card bags and an instruction booklet has a MSRP of $14.99 and includes everything you need for two people to start playing the game. Foil packs containing 2 cards and 2 dice sell for a MSRP of $0.99 and add a collectible feature to the game as each character has multiple card versions each with different abilities with a varying degree of rarity. From the initial release of the game players will have thirty different DC characters to choose from – and the Justice League can be combined with the Marvel set for a comic book showdown of epic proportions.
Dice Masters is an easy enough game for kids to play and there's even competitions held around the country as players pit their dice sets against others. The Justice League Dice Masters game will be released on March 18, 2015.