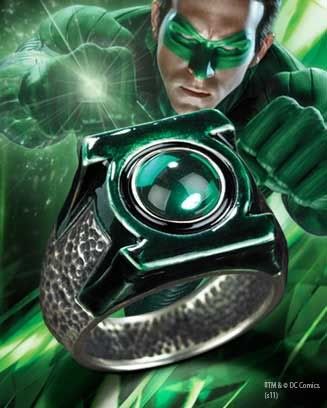 Ten days ago I posted an
entry
about the Noble Collection and their three offerings for the Green Lantern items, lamenting in particular the absence of a high quality, wearable power ring. Some time since then they have doubled the size of their Green Lantern collection to six items, and this time they've got what I've been waiting for.
At $145 the Noble Collection is offering a
sterling silver ring
that will be available in whole sizes from 8-12. The ring is not movie authentic featuring a gem stone in the center and a band which narrows towards the back. The sterling silver ring can be pre-ordered but will not ship until December.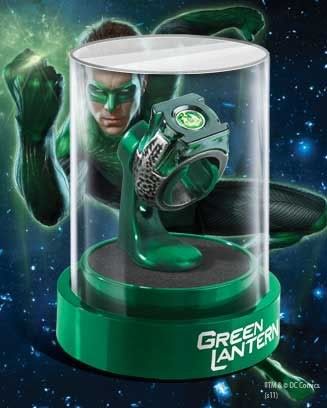 The
Green Lantern Prop Ring
also doesn't ship until December and comes enclosed in a Green Lantern branded display chamber. The prop ring retails for $35 and appears to be a bit bigger and chunkier that the sterling silver ring. While their description says that the prop ring is a size 11 the Noble Collection site does not say whether or not the ring can be removed from the display unit, but the image gives the impression that it is. Given the price point, however, I doubt that this version is designed to be worn as much as it is to be displayed.
The third and final new item is the
Green Lantern Spinning Ring
. The spinning ring comes in whole sizes from 8-12 and is made from sterling silver. Also shipping in December, this $45 dollar ring features a band of Green Lantern logos which presumably spin around the wearer's finger.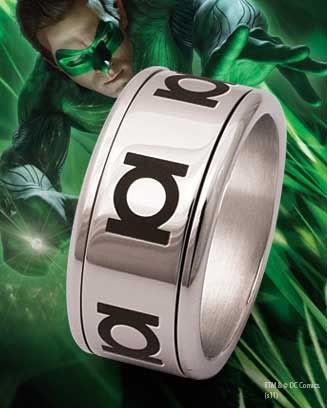 Related articles