Warner Home Video issued a press release today for the upcoming Justice League: Doom home animated feature. Based on the Mark Waid "Tower of Babel" storyline from his run on the Justice League, the next animated film also marks the last script penned by the late Dwayne McDuffie and the home video release will include a tribute to the late writer who passed away in 2011.
Justice League: Doom is the latest in the DC Universe Animated Original Movie line from Warner Home Video.
ENEMIES AT EVERY TURN …
EXECUTING A PLAN CONCEIVED FROM WITHIN
GET READY FOR THE NEXT ALL-NEW DC UNIVERSE ANIMATED ORIGINAL MOVIE
JUSTICE LEAGUE: DOOM
COMING FEBRUARY 28, 2012 FROM WARNER HOME VIDEO
Primetime TV stars & Justice League cartoon alums fill stellar voice cast led by Nathan Fillion, Tim Daly and Michael Rosenbaum;
Available as Blu-rayTM Combo Pack & DVD
Earth's greatest super heroes face foes on all fronts – using a plan initiated from within – in the all-new Justice League: Doom, the next entry in the popular, ongoing series of DC Universe Animated Original Movies. Produced by Warner Premiere, DC Entertainment and Warner Bros. Animation, the all-new, PG-13 rated film arrives February 28, 2012 from Warner Home Video as a Blu-Ray™ Combo Pack ($24.98 SRP) and DVD ($19.98 SRP), On Demand and for Download. Both the Blu-Ray™ Combo Pack and DVD will include an UltraViiolet™ Digital Copy.
Justice League: Doom finds Superman, Wonder Woman, Flash, Green Lantern, Martian Manhunter, Cyborg and Batman on their heels when a team of super villains discover and implement the Dark Knight's "contingency plans" for stopping any rogue Justice League member. The story is inspired by Mark Waid's much-heralded JLA: Tower of Babel.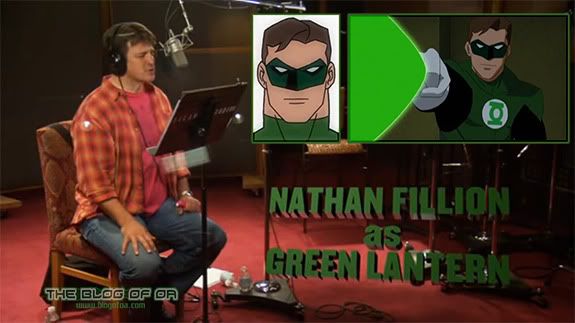 Primetime television stars Nathan Fillion (
Castle
) and Tim Daly (
Private Practice
), the reigning voices of Green Lantern and Superman, respectively, join a group of eight actors reprising their famed Justice League cartoon roles. Fillion made his debut as Green Lantern/Hal Jordan in the recent
Green Lantern: Emerald Knights
, and took his initial DC Universe movie bow as the voice of Steve Trevor in the 2008 hit
Wonder Woman
. Daly originated his role as Superman's voice in the landmark cartoon,
Superman: The Animated Series
. He has reprised the role in two DC Universe films: the 2009 extravaganza
Superman/Batman: Public Enemies
and the 2010 thriller
Superman/Batman: Apocalypse
.
The grand reunion of actors who provided the voices of the Justice League for the cartoon of the same name and its follow-up, Justice League Unlimited, includes Kevin Conroy (Batman: The Animated Series) as Batman, Michael Rosenbaum (Smallville, Breaking In) as Flash, Susan Eisenberg (Superman/Batman: Apocalypse) as Wonder Woman and Carl Lumbly (Alias) as J'onn J'onzz/Martian Manhunter. Bumper Robinson (A Different World, Transformers: Animated) joins the cast as Cyborg.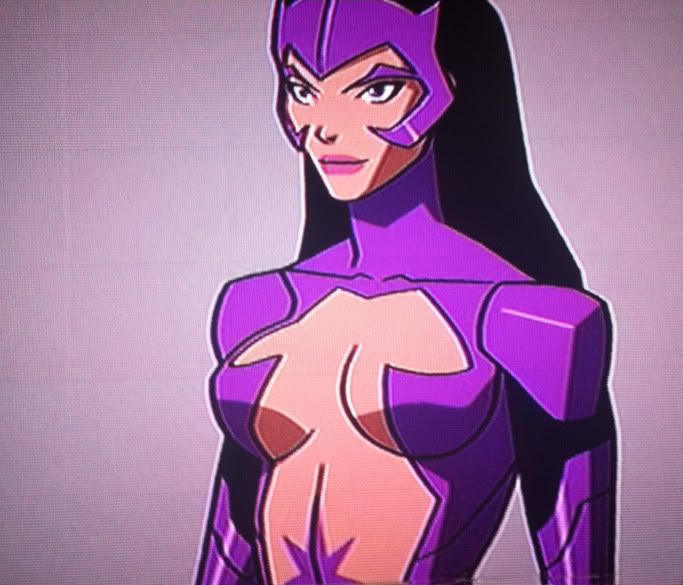 Olivia d'Abo returns as Star Sapphire
The Justice League faces two sets of villainous teams in the film – The Royal Flush Gang and a sextet of notable evildoers. The latter group includes three voice acting alumni of the Justice League animated series: Phil Morris (Smallville, Seinfeld) as Vandal Savage, Olivia d'Abo (The Wonder Years) as Star Sapphire, and Alexis Denisof (Angel) as Mirror Master. Also opposing our heroes are Carlos Alazraqui (Reno 911) as Bane, Paul Blackthorne (The Dresden Files) as Metallo, and Claudia Black (Farscape, Stargate SG-1) as Cheetah.
David Kaufman (Danny Phantom) also reprises his Justice League role of Jimmy Olsen.
The film is executive produced by Bruce Timm (Batman: Year One), and directed by Lauren Montgomery (Batman: Year One), who is also credited as producer alongside Alan Burnett (Batman: The Animated Series). Justice League: Doom is the final DC Universe film script from the late Dwayne McDuffie (All-Star Superman, Justice League: Crisis on Two Earths), who passed away in February 2011. Casting and dialogue direction is once again in the capable hands of Andrea Romano (Batman: Year One, Justice League).
"Justice League: Doom has all the classic ingredients of a great super hero film – a cavalcade of dynamic villains, internal strife amongst our heroes, treacherous twists and turns, and a cast that brings together some of today's popular primetime television actors with many of the fans' favorite voices from the original series," said Hersin Magante, Warner Home Video Marketing Director, Family & Animation. "I think fans will embrace Dwayne's McDuffie's final DCU script, particularly as it has been nuanced by Bruce Timm and the Warner Bros. Animation team. Warner Home Video is proud to distribute Justice League: Doom as the next DC Universe Animated Original Movie."
Justice League: Doom Blu-Ray™ Combo Pack has 3 hours of exciting content, including:
Standard and high definition versions of the feature film

UltraViiolet™ Digital Copy,

Sneak Peak at Superman vs. The Elite, the next DC Universe Animated Original Movie

Featurette – "A Legion of One: The Dwayne McDuffie Story" – The skilled writer penned some of the best stories which consistently entertained fans. From his early writing career to adapting the popular work of All-Star Superman, this is the story of Dwayne McDuffie, as told by his family and friends.

Featurette – "Guarding the Balance: Batman and the JLA" – Everyone has a weakness and so do superheroes, yet when they go rogue, their power can topple more than a few egos, they can shatter worlds. The Justice League is the most powerful organization of superheroes on the planet, but what if the Justice League went rogue, and decided to use their power for harm?

Mini-featurette – "Their Time Has Come: Cyborg and the DC Universe's New Diversity" – 2011 will go down in DC Comics storied history as a year when a rich diversity of characters were re-introduced into the spotlight alongside Superman, Batman and Wonder Woman. One of the most celebrated of the re-imagined characters is Cyborg, who became the new Man of Steel in Geoff Johns' altered universe storyline, Flashpoint.

Creative team commentary

Two bonus episodes from the Justice League animated series handpicked by Bruce Timm: Wild Cards, Part 1 and 2, written by Stan Berkowitz and Dwayne McDuffie

Digital Comic
About Warner Premiere:
Warner Premiere, part of Warner Bros. Entertainment, specializes in the development and production of both features and digital content for home entertainment platforms. Past projects include Another Cinderella Story, Scooby-Doo! The Mystery Begins and Batman: Under the Red Hood, as well as the digital series Watchmen Motion Comics. Warner Premiere is at the creative forefront in the made-for-home entertainment marketplace, producing properties that exemplify the commitment to story, production and brand equity for which Warner Bros. is known.
About Warner Bros. Home Entertainment Group:
Warner Bros. Home Entertainment Group brings together Warner Bros. Entertainment's home video, digital distribution, interactive entertainment/videogames, direct-to-DVD production, technical operations and anti-piracy businesses in order to maximize current and next-generation distribution scenarios. WBHEG is responsible for the global distribution of content through DVD, electronic sell-through and VOD, and delivery of theatrical content to wireless and online channels, and is also a significant worldwide publisher for both internal and third party videogame titles.
About DC Entertainment:
DC Entertainment, home to iconic brands DC Comics (Superman, Batman, Green Lantern, Wonder Woman, The Flash, etc.), Vertigo (Sandman, Fables, etc.) and MAD, is the creative division charged with strategically integrating across Warner Bros. and Time Warner. DC Entertainment works in concert with many key Warner Bros. divisions to unleash its stories and characters across all media, including but not limited to film, television, consumer products, home entertainment, and interactive games. Publishing thousands of comic books, graphic novels and magazines each year, DC Entertainment is the largest English-language publisher of comics in the world.
BATMAN and all related characters and elements are trademarks of and © DC Comics. (s11)
About Warner Bros. Animation:
Warner Bros. Animation (WBA) is one of the leading producers of animation in the entertainment industry, with an innovative and talent-rich roster boasting some of the most accomplished writers, producers and artists working today. The studio is on the cutting edge of animation technology and has both CG and traditionally animated projects in current production and development. For TV, WBA produces series such as Green Lantern: The Animated Series, The Looney Tunes Show, MAD, Scooby-Doo! Mystery Incorporated, ThunderCats and Young Justice, for Cartoon Network. WBA will also produce series and additional original content for Cartoon Network's multiplatform branded DC Nation programming block, which debuts in 2012. In addition to TV series, WBA produces theatrically released CG cartoon shorts featuring iconic Looney Tunes characters, rendered in stereoscopic 3D. The first three shorts premiered in 2010; the most recent short — I Tawt I Taw a Puddy Tat — was released in November 2011; and two additional cartoons will debut in 2012. WBA also creates the highly successful series of DC Universe Original Animated Movies for DVD. Producing for multiple platforms including TV, digital and home entertainment both domestically and internationally, WBA is highly respected for its creative and technical excellence, as well as for maintaining the Studio's rich cartoon heritage. It is also the home of the iconic animated characters from the DC Comics, Hanna-Barbera, MGM and Looney Tunes libraries. One of the most-honored animation studios in history, WBA has been honored with six Academy Awards®, 35 Emmy® Awards, the George Foster Peabody Award, an Environmental Media Award, a Parents' Choice Award, the HUMANITAS Prize, two Prism Awards and 20 Annie Awards (honoring excellence in animation).