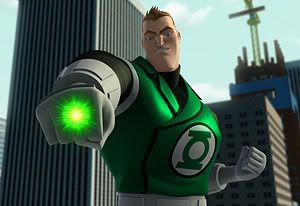 TV Guide let slip today some news about the upcoming return of Green Lantern: The Animated Series with comments by series producers Giancarlo Volpe and Jim Krieg about what fans can expect this fall. When Hal returns to Earth at the end of the "Homecoming" episode at the conclusion of his battle with Atrocitus, little does he know that he's been replaced as the Green Lantern of Sector 2814. In his absence Guy Gardner has been chosen as the protector of our little part of the universe.
Volpe mentioned that Gardner is one of his favorite characters during our interview with him so it'll be fun to see how they play with his personality when the second half of the season resumes. According the the article Guy is being voiced by Diedrich Bader whose comedic past will seem to play an important role in how Guy is played onscreen. Bader, perhaps best known as Oswald Lee Harvey during his nine year stint on the Drew Carey Show, has been doing a variety of voice acting jobs and recently played Batman on Batman: The Brave and the Bold.
Also mentioned in the article was the revelation of the major villain that Volpe indicated most fans might not see coming – the Anti-Montior. This brings about the need for Hal to reunite the crew of the Interceptor, a job which might not be so easy as not everyone is willing or able to join the battle.
As Krieg jokes, "Essentially it's the plot of The Blues Brothers — but there's less music."
Fans attending the San Diego Comic Con can see a sizzle real for the coming season as well as purchase the Green Lantern Animated Series soundtrack weeks before the street date.
Source: TV Guide